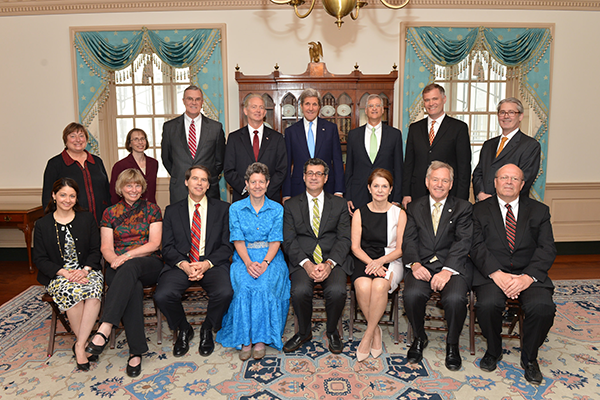 Ukraine. Armenia. Moldova. Bosnia-Herzegovina. Jim Alleman, Cerwick Faculty Professor of Environmental Engineering at Iowa State University, provides his environmental engineering expertise to these countries as a way of implementing, in part, key U.S.-eastern Europe policy.
Alleman is one of 13 U.S. university professors to complete a 2014-2015 Jefferson Science Fellowship. The Jefferson Science Fellow Program was founded in 2003 to engage American academic science, technology, engineering and medical communities in the formulation and implementation of U.S. foreign policy. The National Academies (including the National Academy of Sciences, National Academy of Engineering, Institute of Medicine, and National Research Council) administers the program in partnership with the U.S. Department of State and the U.S. Agency for International Development (USAID).
Alleman serves as a senior science advisor for civil, construction, and environmental project focus elements within USAID's Bureau of Europe and Eurasia. He advises on issues in four eastern Europe locales: Chernobyl, Ukraine; Ararat Region, Armenia; Telenesti, Moldova; and Bosnia-Herzegovina. Projects pertain to economic security, energy safety, environmental quality, and energy security in said regions.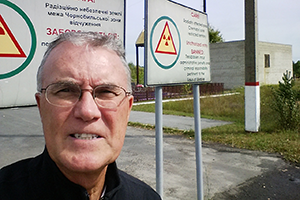 Chernobyl, Ukraine
Forty-two donor countries have partnered to safely shelter and deconstruct the world's largest nuclear disaster – the 1986 Chernobyl Nuclear Power Plant explosion near Pripyat, Ukraine. An enormous steel truss arch, reaching 360 feet high, 853 feet wide, and 541 feet long, will enclose the nuclear plant for the coming century. The arch and interim spent fuel storage facility on site is expected to be completed in November 2017.
Alleman contributes to an engineering oversight team that has monitored arch construction since September 2010. In particular, Alleman reviews monthly site monitoring reports as a USAID representative and joined a U.S. Department of State construction contract review team based in Kiev, Ukraine. At the same time, Alleman also tracks the construction status of the interim spent fuel storage facility, where 20,000 used nuclear fuel assemblies will be cut, dried, and fitted into protected storage containers.
Ararat Region, Armenia
Alleman also advises on water conservation in Armenia's Ararat Valley, which lines the country's southern border with Turkey. In just the past few years, water consumption by Armenia's rapidly growing fish farming industry has created an unsustainable demand on their artesian groundwater source. "This pressurized, cold aquifer is clean and rich in oxygen, making it ideal for growing high-value trout and sturgeon, but the current water demand simply cannot be sustained," Alleman said.
USAID considers the innovative use of micro-hydro energy generation technology to tap into the artesian pressure head for local energy recovery. The energy solution addresses both assessment and technology strategies intended to advance sustainable public and private sector water abstraction. USAID's Global Development Lab identified the project as one of four global Mission Signature Effort studies under their Science, Technology, Innovation and Partnership (STIP) initiative platform.
Collectively, new strategies will be explored for reducing water demand while at the same time harvesting energy within Armenia's important fish farming industry. Alleman said that industrial fish business owners must consider three water issues: temperature, level of dissolved oxygen, and the level of ammonia released by fish. While the current ample water supply negates these issues, fish operation managers must consider these elements when conserving water. "We hope to provide fish business owners with the tools and concepts they can use on site to monitor water temperature, oxygen level, and ammonia," Alleman said. "If any of these elements are not controlled, most of the fish they want to grow will die."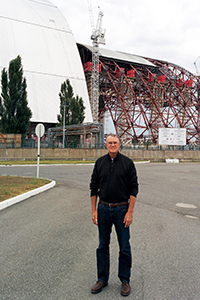 Telenesti, Moldova
Moldova is a small, densely populated country landlocked between Ukraine and Romania. Moldova's decades-old municipal water/wastewater systems have suffered from "years of under-investment and lack of funds for systematic maintenance, resulting in significant, but unplanned disinvestments," according to a 2000 report generated by the Organization for Economic Cooperation and Development (OECD) and presented to the Moldovan government. The report also said that "raw water sources have become more polluted, ill-maintained water treatment plants are no longer able to meet water quality standards, and most wastewater treatment plants operate de facto with mechanical treatment only."
Alleman participates in the design evaluation of an upcoming wastewater treatment system in Telenesti, a city of 8,100 located within the Telenesti District of Moldova. He will evaluate reactor engineering features, expected influent and effluent qualities, and contractual guarantee criteria. According to USAID, the project has four goals: 1) improved management of public sewerage services provided to 11,300 inhabitants where the project is implemented; 2) improved conditions for investment in the region due to improved infrastructure; 3) reduced pollution in the Ciulucul and Raut rivers by stopping sewage drainage into the river, and 4) improved energy efficiency and reduced energy costs for the city. Telenesti's chief industry is agriculture, particularly wheat, oat, corn, sunflower, canola, grape, apple, peach, and plum.
Bosnia-Herzegovina
Bosnia-Herzegovina must achieve certain agricultural requirements, particularly increasing the production and efficiency of agricultural commerce and lowering costs to customers, in order to join the European Union (EU). In 2009, USAID and the Swedish International Development Cooperation Agency financed the Fostering Agricultural Markets Activity (FARMA) project to allow Bosnia-Herzegovina to work toward this goal.
The main goal of this project was expanding environmentally sustainable production and processes. Alleman consulted on an energy recovery method that processes dairy cattle manure into methane, a fuel used for farm operations. He advised during the last year of the project, which concluded in May 2015.
On June 1, 2015, the EU implemented a Stabilization and Association Agreement for Bosnia-Herzegovina, which moves the country one step closer to EU accession.
Putting Iowa State University in context
Alleman's 12-month appointment as a Jefferson Science Fellow expires in August 2015. He will continue to be a resource to the U.S. State Department and USAID for five more years. While Alleman's engineering efforts are apolitical, he recognizes that his work contributes to America's diplomatic efforts in eastern Europe. "These experiences have provided a unique opportunity to broaden and deepen my awareness of global policy issues relative to science and engineering," Alleman said.
Since 2004, USAID and the U.S. State Department have selected an annual group of top university researchers. Alleman is the second Iowa State faculty member to serve on the elite research team. Max Rothschild – C.F. Curtiss Distinguished Professor of Agriculture and Life Sciences, M.E. Ensminger International Chair, and co-director of the Global Food Security Consortium – worked with USAID from 2011 to 2012. Alexander King, former director of The Ames Laboratory and current director of the Critical Materials Institute at The Ames Laboratory, was a Jefferson Science Fellow from 2005 to 2006 as a Purdue University faculty member.
Alleman has been a professor in the CCEE department since 2005. In 2005 he completed a Fulbright Research Scholar appointment in Xania, Greece. He served as the CCEE department chair from 2005 to 2011. Prior to Iowa State he held faculty appointments at Purdue University and the University of Maryland. He received his bachelor's and master's degrees in civil engineering from the University of Notre Dame and later earned a doctorate in environmental engineering from the same institution. Prior to pursuing his doctorate, Alleman served as a U.S. Army environmental engineer officer from 1972 to 1975.