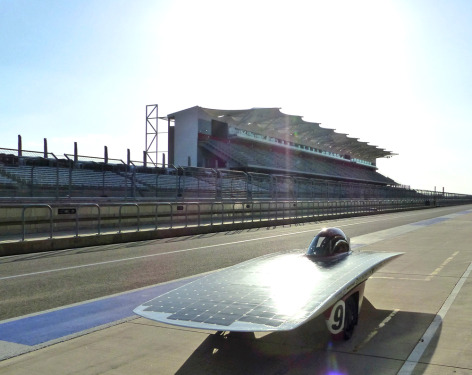 This story was originally published with the Iowa State News Service. 
Team PrISUm started and finished the first day of the Formula Sun Grand Prix in the same position: First.
Iowa State's solar car racing team earned its first pole position early in the week by being the first team to pass technical inspection. Then, on Wednesday, the team completed 76 laps of the Circuit of the Americas track in Austin, Texas. Illinois State is second at 69 laps and Polytechnique Montréal is third at 61.
The 15 competing teams will race around the 3.41-mile Formula 1 track from 9 a.m. to 5 p.m. on Thursday and Friday. The student team completing the most laps over the three days will win the annual grand prix.
"The car functioned as designed, which was awesome," said Matt Goode, a junior from Coggon who's studying mechanical and materials engineering and is Team PrISUm's project director.
Other teams, however, struggled with overheated battery packs in the 98-degree heat.
"But we were able to keep going and able to pull away," Goode said.
That's because the student-engineers of Team PrISUm made a strategic decision to beat the Texas heat. Goode said they chose a type of battery that runs cool, but doesn't store as much energy.
So far, that gamble has helped the team build a nice lead. And team members won't be complaining if the forecast holds and temperatures hit triple digits for the rest of the race.