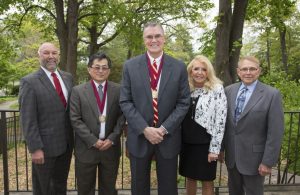 Last fall Jim Alleman and Say Kee Ong were appointed Cerwick Faculty Professors – an award that recognizes and promotes the excellence of the faculty in the Department of Civil, Construction and Environmental Engineering (CCEE) at Iowa State University. At a May 4 ceremony, Alleman and Ong received their Cerwick Medallions from President Steven Leath.
Alleman became a member of Iowa State's faculty in 2005. His primary research interests are environmental engineering systems and sustainability engineering, and he has taught many courses in engineering economics, engineering communications and professional issues in civil engineering. Alleman was chair of CCEE department from 2005 to 2011. He received his B.S. and M.S. in civil engineering and his Ph.D. in environmental engineering from the University of Notre Dame.
Ong has been with Iowa State since 1994, when he began as an assistant professor in the CCEE department. Since summer 2012, he has served as associate chair and director of CCEE's graduate education. Ong's primary research involves pollutant transportation, water treatment and reuse, and waste management. Ong received his B.S. in mechanical engineering from the University of Malaya, and his M.S. and Ph.D. in environmental engineering from Vanderbilt University and Cornell University respectively.
The Cerwick Medallion was established by Joel and Judy Cerwick, generous and loyal supporters to the university. Joel received his B.S. and M.S. in civil engineering from Iowa State and was recognized with the Professional Achievement Citation in Engineering award from the College of Engineering in 1992.
Named faculty positions are important to the university because they help retain and recruit great faculty while also inspiring leadership, innovative research and valuable learning opportunities.