A fascination for microscopes from an early age led Sonal Padalkar, a new assistant professor in mechanical engineering at Iowa State, to develop an affinity for problem solving using microscopic techniques.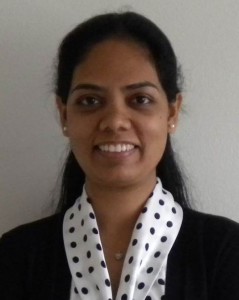 Sonal Padalkar grew up looking through the lens of a microscope, seeing new worlds of changing colors and patterns. The experience, she says, gave her a unique perspective on life and sparked her interest in material systems.
Padalkar, who joined the mechanical engineering department this fall as an assistant professor, spent many weekends as a child in the National Chemical Laboratory in India. She would visit her father, who was a microscopist, or a scientist who uses microscopes to study material systems.
His lab was equipped with several types of microscopes, such as scanning and transmission electron microscopes. And since her father was a scientist, he often asked her questions to correlate what she was seeing in his lab to stimulate her critical thinking skills.
"I began to wonder what was really happening when different materials were placed under the microscope," she said. "These observations made me curious about materials and their behavior."
Intent on learning more about materials systems, Padalkar enrolled at Government College of Engineering in India to study metallurgical engineering for her bachelor's degree. She later pursued a master's in physical metallurgy at Pune University.
Padalkar continued her studies in materials engineering for her Ph.D. She knew she wanted to go to an engineering college in the U.S., and that whatever field she chose had to be associated with microscopy.
While searching for a Ph.D. advisor, she met Lia Stanciu of Purdue University, who used microscopy for problem solving in materials science. A perfect match, Padalkar joined Stanciu's group to study materials engineering.
At Purdue, Padalkar studied bottom-up synthesis techniques to synthesize nanowires, which were studied using a variety of microscopes, including scanning electron microscopes, transmission electron microscopes and cryo transmission electron microscopes.
As more time passed on the project, it seemed those weekends in the lab as a child laid the foundation for her future, as working with these microscopes was her favorite part.
"When I was younger, I would watch my father use microscopes. Now, I was able to use them to study my materials, which made materials characterization my forte," she said.
After receiving her Ph.D. in 2010, Padalkar studied atom-probe tomography at Northwestern University as a postdoc under Lincoln Lauhon. She says this technique goes one step ahead of conventional microscopy in terms of resolution and sensitivity, to let researchers "see" materials on the atomic level.
Now at Iowa State, Padalkar says she joined the mechanical engineering department because of its interdisciplinary research culture and strong collaborative environment, which provide emerging scientists like her with opportunities to thrive in their respective research areas and help them forge new paths.
She will now be using various characterization techniques to solve complex problems in research, like studying hybrid structures for solar energy applications – mainly solar cells.
"I am curious about the composition and performance relationship of these hybrid structures," she said. "I want to design, synthesize and characterize them to maximize light absorption in solar cells."
Padalkar is also teaching ME 231 Engineering Thermodynamics. She had taken the course as an undergrad in India, but this is her first time teaching it.
"Teaching thermodynamics is very exciting as I, along with my students, am learning a lot while preparing for lectures," she said.
Through her research, Padalkar is not only following in her father's footsteps of being a scientist but also blazing her own trail in the field of engineering.