Aerospace engineering alumnus collaborates with Iowa State to improve programs
"Not everyone gets a chance to come back and have an impact at their alma mater," says Ross Sheckler, 1991 aerospace engineering graduate. Sheckler has been working with several different departments to advance the industry.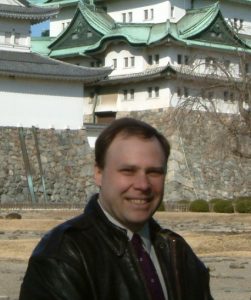 One of his collaborations includes Iowa State's aerospace engineering department and the Institute for Transportation to launch a research program focused on designing vehicles for severe wind and weather. The Wind Energy Initiative, InTrans, and the aerospace engineering department are collaborating to perform engineering research to determine changes to the highway travel industry regulations. For example, in high wind conditions, semi-trailers cannot drive on the highways. The initiative is working to determine a better solution to the problem.
Sheckler is also working with aerospace engineering's Industrial Advisory Council to determine how his company can advance education through its industry grade engineering tools. Additionally, he has been meeting with the architecture department in the College of Design to explore new building technologies and environmental control concepts.
As an undergraduate student, Sheckler never envisioned such strong future connections when he came to Iowa State from upstate New York. He was drawn to the university's rural environment as well as the excellent aerospace engineering program. Once he got entrenched into Iowa State, there was no question he was going to find a way to come back as often as he could.
Sheckler recalls often studying until two o'clock in the morning and enjoying learning new material with hundreds of students. "Everyone was working, putting in 70 or more hours a week. We knew each other very well. While it was intense, there was great camaraderie," he said.
He continued in this same vein until graduation, including for his senior design project, where he collaborated with a team of 20 students to design an airplane. His team worked nonstop for a year on their project, which gave the students a way to apply their education.
"Many aerospace engineering professors were well regarded in industry and were focused on making practical coursework," Sheckler said, adding that this experience is critical for students entering the workforce.
He also believes the vigorous coursework of the aerospace engineering department laid the foundation for many leaders in the aerospace field. "I run into old friends from college on a regular basis, and I work with ISU grads from all over the place. They are all doing well and are making a difference in their careers."
Many of these connections are being made at Sheckler's engineering technology firm, Calmar Research, where he is a partner. The organization is focused on aircraft design and software. He has enjoyed being able to hire a number of Iowa State graduates.
Sheckler's favorite thing about being an engineer is building things and solving problems, such as highway technologies that support the trucking industry through automated communication systems and location services. He also appreciates seeing his hard work being put to use. "There's something wonderful about knowing there's an airplane or truck out there that you built," he added.
Sheckler hopes his love for Iowa State continues through the generations. "I'd love to send my four kids back, especially since it's a university worth sending them to," he said. "My alma mater has held up to time, and it's a place where I want to see my kids."