[jwplayer mediaid="17282″]
Team PrISUm raced more than 180 miles today – at speeds reaching up to 50 miles per hour – to arrive in third at the Ames checkpoint of the American Solar Challenge.
After much anticipation, Iowa State's solar car Phaeton and its escorts drove into Iowa State Center parking lots where they were greeted by a mass of visitors, including local residents, Iowa Staters and rival teams.
Todd Wegter, who is one of the car's four drivers and a recent ISU graduate in computer engineering, parked Phaeton in lot D-2 near the American Solar Challenge community event.
Instantly surrounded, Wegter slowly eased himself out of the car's cockpit-like canopy, which is essentially a car door, before he shouted "Hi Mom!" and waved to his mother who stood amidst the crowd. And the crowd roared.
Albeit for a brief moment, Team PrISUm was finally home.
Almost as if home had beckoned to them, Rachel Hoke, who is the team's treasurer and a junior in electrical engineering, said they found a patch of sunlight amidst overcast skies earlier today that they followed all the way to Ames.
Not even a steep hill near Boone, Iowa, could stop them.
"It was a little unexpected, but we sped up and made our way through" said Logan Scott, the team's project director and a recent ISU graduate in computer engineering.
The hill may have, inadvertently, been a boon to Team PrISUm. Combined with cloudy weather, Scott said the hill might have been more challenging for the other teams to overcome and slowed them down on their way to the checkpoint.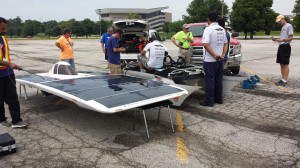 Weather and terrain aside, Wegter – who has been a member of Team PrISUm since his freshman year – said he's having a blast driving the team's solar car in a race.
"Driving Phaeton is really cool. When we were on the track in Austin, it handled a lot like a racing go-kart – you can fling it around the corners at high speeds," Wegter said. Phaeton is a new car designed and built from scratch. The car has been running with very few issues since the track race in Austin, Texas.
However, Emmanual Agba, who one of the team's faculty advisors and a senior lecturer in mechanical engineering, said the car has some areas for improvement that the team will work on after they finish the race.
"Next year, we're going to do a four-wheel car and we'll also incorporate things that we've learned from this race," Agba said. These improvements also include a redesigned battery pack, "so that our car can keep up on overcast days."
After a short stay – one hour, members of Team PrISUm said their goodbyes before preparing to head back onto the road. A crowd chanted 5…4…3…3..1.. And Phaeton sped off to the race's next stage stop in La Crosse, Wisconsin.