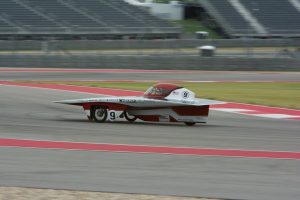 Despite adverse weather conditions and system bugs, Iowa State's solar racecar Phaeton set a speed record at the Circuit of Americas this past weekend.
Team PrISUm – the students who design and build cars that run off the power of the sun – placed fifth at the track race hosted by the Formula Sun Grand Prix Powered by Austin in Texas.
The car completed 92 laps around a 3.427-mile track, qualifying for the cross-country American Solar Challenge that will take place from July 21–28.
Rachel Hoke, who is the team's treasurer and a junior in electrical engineering, said cloudy skies and rainy weather hindered Phaeton's overall performance. Add to that blown power board fuses, malfunctioning brakes and shorting solar panels, and Team PrISUm found itself behind on the first day of the race.
However, the team fixed up the car in time to race the last two days. Phaeton made 46 laps on the second day and 46 on the third, reaching the two-day qualifying requirement of 90 laps.
During the last lap, team driver Ryan Hupp pushed the pedal to the metal and rounded the track in a record setting four minutes and thirty-five seconds. Phaeton now holds the title of being the fastest solar car to race at the Circuit of Americas.
The Circuit of Americas sets the starting grid for the American Solar Challenge, which will cover more than 1,700 miles from Austin, Texas to Minneapolis, Minnesota.
After three days of cloudy skies, Iowa State, the University of Michigan, and Oregon State University were the only teams that passed the qualifying race.
"It's been hard for every team to reach the required 90 laps and qualify for the solar challenge," Hoke said. On the third day, ASC decided to lower the lap count that allowed two additional teams into ASC officially.
To increase competition, Phaeton driver Todd Wegter said five additional teams were provisionally qualified for the cross country race. Those teams will start the race on Monday, and how they perform from Austin to Weatherford – the first checkpoint – will determine whether they remain in the race.
"We're hoping for the best, and we're hoping to make it a good competition," Hoke said.