Iowa State University engineers and plant scientists are joining forces to design better crops that tolerate climate change, produce bigger yields and feed more people.
The collaborative effort to develop computationally engineered plants could have the same kind of impact on agriculture as biomedical engineering has had on medicine, said Daniel Attinger, the leader of the project and an associate professor of mechanical engineering. Plant engineering could produce better crops or new ways to grow crops, just as biomedical engineering has saved lives by developing artificial hearts, robotic surgery and more effective drugs.
"There is so much potential for engineering in living systems," Attinger said. "Engineers and plant biologists can learn a lot from each other."
Engineers, for example, are fluent in measuring flows of water and nutrients, running high performance computer simulations and visualizing huge amounts of complex data. If engineers don't have an instrument to collect or analyze data, they'll build one.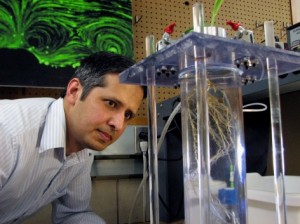 Plant scientists bring their own tools and techniques to the collaboration. They have a long history of breeding and improving plants, identifying plant traits, understanding genomics and studying soil and environmental impacts on plants.
In the 1970s and '80s, plant scientists took steps toward the primary goal of the Iowa State collaborators: identifying the necessary traits for ideal crops and then breeding toward that goal. Such "ideotype breeding" wasn't a great success at the time, said Patrick Schnable, Charles F. Curtiss Distinguished Professor in Agriculture and Life Sciences, the director of Iowa State's Plant Sciences Institute and part of the plant engineering collaboration.
But Schnable sees promise in this new attempt to use the principles of engineering and physics in plant breeding. He calls the new Iowa State effort "a bold experiment at bringing new techniques and approaches to an idea plant scientists have looked at. This new collaboration is developing new science at the interface of plant sciences and engineering."
Iowa State engineers and plant scientists launched their effort last summer with a one-year, $100,000 grant from Iowa State's Presidential Initiative for Interdisciplinary Research. Iowa State President Steven Leath announced the initiative in the fall of 2012 with the goal of promoting interdisciplinary research, securing large research grants and building Iowa State's reputation for innovation.
The plant engineering collaboration is already going public with its ideas and findings. The research team is sponsoring and organizing an International Workshop on Engineered Crops April 28-29 in the Hotel Fort Des Moines in downtown Des Moines. The workshop will welcome more than 100 participants, including some of the world's best engineers and plant scientists, as well as representatives from agribusiness companies and government agencies. Workshop topics include genotypes and environmental interactions, plant physiology and nutrient transport, numerical modeling, imaging of plant traits and education needs.
Information about the workshop is here.
One thing engineers can do for plant scientists is help identify the best combinations of genes and traits for better crops. Baskar Ganapathysubramanian, an assistant professor of mechanical engineering, is working to develop computer models of how the environment affects a plant's nutrient transport, water uptake, photosynthesis and root architecture.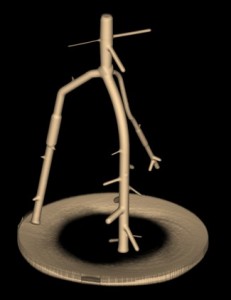 "Instead of going out in the field and doing a lot of experiments that are resource intensive and time intensive, we're coming up with a computational paradigm and throwing that into high performance computing resources," he said. "This way you can go through millions and millions of combinations and figure out which ones might work."
Plant scientists and engineers are also working to develop other research techniques. One project, for example, is using engineering tools – including X-ray computed tomography – to study root systems in the soil.
"With these new technologies we're developing, we should be able to look at real root development in the soil, over time," said Larry Halverson, an associate professor of plant pathology and microbiology who studies root biology. "And from that, we should be able to model nutrient and water transport in ways that have never been done before."
This idea of plant scientists and engineers working together to engineer "smart plants" is all very promising, Halverson said.
"What we intend to do is integrate two disciplines that have really not been integrated very well," he said. "They have different approaches, different philosophies as well as different perspectives on how to answer questions."
Combining the different strengths of both disciplines is the point of this new collaboration, Attinger said.
"The engineers will use quantitative methods to identify the characteristics of ideal crops," he said. "And the plant scientists will breed crops having the desired characteristics."
He also said Iowa State, with established research programs in the plant sciences and engineering, is very suitable for an effort to develop engineered plants.
"This can be a game-changer for Iowa," Attinger said. "We have high-tech agriculture industries and extremely good soil and farms for large-scale testing. There might be no place better than Iowa's Cultivation Corridor to engineer plants."
The story first appeared here.