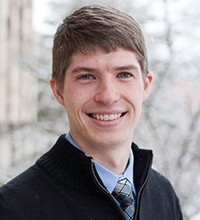 Industrial engineering senior Benjamin Paul Jacobson recently received the Wallace E Barron Award All-University Senior Award. The award is an honor of the Iowa State Alumni Association and recognizes five outstanding seniors who display high character, outstanding achievement in academics and university/community involvement and promise to continue these exemplary qualities as alumni.
Jacobson is the fourth industrial engineer to receive the award which began in 1968. He has maintained a 3.98 GPA while also serving as a peer mentor and teaching assistant, a member of Delta Upsilon Fraternity and a community advisor in the department of residence for three years.
"It is such a tremendous honor to receive this award, but everything I've done is just a small subset of all the great things going on at Iowa State," Jacobson said. "It's easy to work hard and contribute when I'm surrounded by so many passionate students and faculty."
During his time at Iowa State he has been involved in a variety of activities that established him as a leader. He is the third student to serve on the United Way of Story County's (UWSC) board of directors where he is a member of the allocations committee and reviews monthly grant requests and makes recommendations to the board.
Jacobson also played an important role in creating CyServe Council at Iowa State, a campus organization that coordinates, publicizes, and expands volunteer opportunities for students by unifying campus service organizations with local non-profit groups, and served as the council's co-president in its first year. He has served as president of both the Cardinal Key Honor Society and the Institute of Industrial Engineers. He was also involved in VEISHEA Service Day and Greeks Give Back.
Jacobson is concurrently enrolled in graduate school at Iowa State in industrial engineering and human-computer interaction with a focus on cognitive engineering and technological innovation in education. He hopes to earn his doctorate and work towards making education accessible to all.
"I believe that widespread, easy-to-access education through technology is the best way to break the cycle of generational poverty," Jacobson said. "I view technology as an essential tool to help professors and teachers optimize each student's unique educational path."
Civil engineering student Ryan Francois was also named a Wallace E. Barron All-University Senior