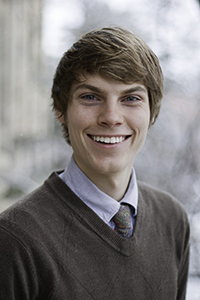 Civil engineering senior Ryan Francois recently received the Wallace E. Barron All-University Senior Award, an honor the Iowa State University Alumni Association granted to five graduating seniors this year who display high character, outstanding achievement in academics and university/community activities, and promise for continuing these exemplary qualities as alumni.
Established in 1968, Francois is the fifth student from the Department of Civil, Construction and Environmental Engineering to receive the Wallace Barron Award. "I've tried to use my time at Iowa State to gain as many unique experiences as I can and actualize projects I feel passionate about," Francois said. "I'm honored to receive the award, but I know that there are also more than five of us at Iowa State doing great things, and it's really inspirational to think about what we can accomplish together."
Francois has applied many things from the classroom to extracurricular and volunteer activities. His resume is impressive: he co-taught a Freshmen Honors Program seminar section of 13 students that met two times each week for a semester; he served as co-leader of the College of Engineering's parade float as Freshmen Leaders in Engineering's VEISHEA Chair; he helped co-found the Delta Upsilon fraternity as the recolonized chapter's first president; and many more experiences.
Over the past two years, Francois has spent a semester each in Singapore and Australia. He also used these international opportunities to travel around the globe and visit over a dozen other countries. In 2012 he was team captain for the Singapore Red Bull Flugtag Event, where he built a full-size glider aircraft.
Last semester, Francois led a team of other Iowa State engineering students in the design and construction of a 29- foot LEGO man out of recycled cardboard. The 2013 project raised $7,000 for homeless youth in central Iowa.
Francois was one of 10 Iowa State students selected to attend the Alliance for the Arts in Research Universities Emerging Creatives Student Conference earlier this semester.
Francois has demonstrated excellence in the classroom, gaining the skills necessary for a future in engineering. His passion for combining classroom skills with other interests, passions and desires is exceptional. Francois will graduate this May with a B.S. in civil engineering with a minor in critical studies in design.
Industrial engineering senior Benjamin Jacobson also won the Wallace E. Barron All-University Senior Award.
CCEE Communications Intern Alex Hagar contributed to this story.