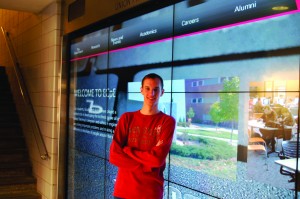 Tyler Uhlenkamp, a junior software engineering major, was named an Engineering Fellow by Kleiner Perkins Caufield & Byers this semester. Uhlenkamp will intern with Coursera, an online startup that offers massive open online courses (MOOCs) as part of his fellowship this summer.
The KPCB Fellowship Program, which matches outstanding students with internship opportunities within its partner firms, put Uhlenkamp together with Coursera after Uhlenkamp expressed an interest in the online company
"After the initial round of interviews, they gave me 20 or so companies and asked which one I was interested in," Uhlenkamp said. "I interviewed with a number of companies, got offers from a few of them, and accepted the offer from Corcera."
Uhlenkamp will live in Mountain View, Calif. and will be employed at Coursera over the course of the summer. He will be tasked with working with the company's engineers on its website.
"Javascript is what I like," Uhlenkamp said. "It's in high demand right now because the web is moving toward more javascript-heavy applications. This is what I talked to a lot of the companies about."
Uhlenkamp applied for the fellowship last December after hearing about the program at the MHacks event in Omaha. Through the application process, Uhlenkamp participated in a coding challenge to give the firm a better idea of his coding skills. Following that, it was on to the interviews.
"Through the fellowship, I had 10 or 15 interviews," he said. "I interviewed with Flipboard in the first round, and then from that point it split into four different branches of companies that I could work for."
KPCB contacted him early this year to let him know he had been selected as one of 56 nationwide fellows. Nearly 2,500 applicants from more than 200 universities applied through the program.
"I was pretty excited," Uhlenkamp said of the offer. "It was just an email from the recruiters at Corcera. I didn't know that it was a big deal – I just thought I had gotten another offer – until some friends out in California called to tell me congratulations."
The KPCB Fellows Program, now in its third year, offers outstanding students from across the country an opportunity to gain significant experience working on uniquely challenging technical, design and product problems while also developing new relationships that are meaningful to their careers. In addition, fellows attend private events hosted by portfolio companies where they meet engineers and designers from across Silicon Valley.