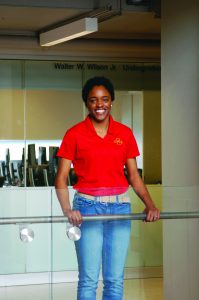 Senior computer engineering major Cimone Wright was one of six statewide winners of this year's Alliant Energy/Erroll B. Davis Jr. Achievement Award. The awards will be presented at the Diversity Catalyst Award Reception, Tuesday, April 15 at the University of Iowa Memorial Union.
Wright, who was encouraged to apply by LeQuetia Ancar, Iowa State's Multicultural Liaison Officer, will be presented with a $4,500 scholarship at the ceremony.
"I was sent an email by Dr. Ancar," Wright says. "She said the scholarship fit my goals. She's kind of my mentor and has been for my entire college career. I looked into it, applied, and I got it."
To be considered for an Alliant Energy/Erroll B. Davis Jr. Achievement Award, a student must be a senior business or engineering major at a Regent university, be a member of an underrepresented group, and receive two letters of support from faculty members or advisors.
"I was very excited when the announcement came in the mail," Wright says. "The first thing I did when I found the letter was say 'Yeah, I didn't get it. This is too thin.' You think of it like a college application – if it's not thick, you think you didn't get it."
After graduation, Wright will pursue a Ph.D. in human-computer interaction. She has logged research hours with Tien Nguyen and Morris Chang, both associate professors in the Department of Electrical and Computer Engineering.
"We're seeing too many issues where we think what we're doing is geared toward the user, and then we give it to the user and he says 'What does this even do?'" Wright says. "At that point, we've basically failed. That's a major problem, especially since the world is gearing more and more toward technology, specifically touch technology."
In addition to her research goals, Wright has been very active in STEM education outreach, specifically to African Americans.
"Some things I want to do in my career involve helping African Americans to be aware of the statistics of where we're at in college," says Wright. "One of my goals is to increase the number of African Americans in college, and specifically to increase the number of African Americans in STEM fields."
Wright's outreach activities take her to a variety of schools – but not just high schools. The senior says she prefers to speak in front of younger crowds in order to make an earlier impact.
"I prefer to speak to students when they're really young because that's when they're impressionable. That's when you can make a difference," she says. "When they're at the high school level, they've probably already made up their minds. It's not impossible to reach them, but it is more difficult."
Wright's outreach activities correlate with the goals of the Alliant Energy/Erroll B. Davis Jr. Achievement Award, which was created by Alliant Energy to honor Erroll B. Davis, Jr. and his nearly 30 years of service to the utility industry. The award seeks to honor and recognize the importance of scholarship and leadership by underrepresented minority students in the state of Iowa.