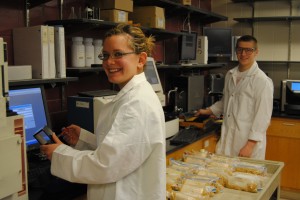 Hands-on and first-hand are often terms associated with undergraduate research on campus. Students who aim to further their education or go into industry benefit greatly from their experiences in the many laboratories housed here. But the Iowa State University Grain Quality Laboratory (GQL) encourages their student workers to go beyond those terms by adding efficient and problem solving to the list.
"I want the students who work in the lab to come away with more than a line on their resume," says Charlie Hurburgh, professor of Agricultural and Biosystems Engineering, and professor in charge of the Iowa Grain Quality Initiative. "Employers will be more interested in what the students learned in their position and less about their day to day responsibilities. I want them to take away skills like problem solving and independent thinking." Skills which Hurburgh says are critical for success in the working world.
At any given time, a handful of students can be found in the GQL organizing, processing, and testing grain samples.
Samantha McGinnis, a student lab employee and senior in biological systems engineering, started working in the GQL as part of a summer project. Her time in the lab has inspired her to apply to positions in industry after graduation, but she plans to ultimately return to research.. Hurburgh and the GQL nominated McGinnis for the ISU student employee of the year award, for which she was named one of three runners-up.
Brent Reed, a sophomore in agricultural systems technology, appreciates the foundation he's gained in research, and also sees his future in industry.
"The lab has been a great experience that I'd recommend to other students," says Reed.
Both Reed and McGinnis agree they enjoy the independence they have in the lab and apply it by devising ways to streamline their processing. "We're always trying to figure out faster ways to get through samples," McGinnis said.
While most student employees are from the Department of Agricultural and Biosystems Engineering, the lab employs several students from the College of Agriculture and Life Sciences as well. Susan Krummen is a junior in agricultural studies who wants to teach high schools students after she graduates.
"Working in a lab has given me experiences I hope to apply in own teaching. We think on our feet and solve problems on our own – and it's just a fun atmosphere in the lab," says Krummen.
Hurburg says that efficiency and problem solving are key elements he tries to teach the students in his lab. As a result, the GQL has regularly employed student workers for the last thirteen years. And with nearly 5,000 hours logged in the past year, it seems Hurburgh and the GQL has figured out it's own formula for success.
For more information about the Iowa Grain Quality Initiative, click here.