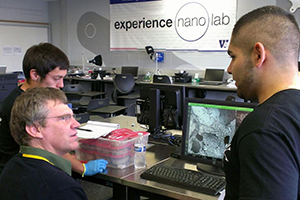 Peter Taylor, associate director of the National Concrete Pavement Technology Center at the Iowa State University Institute for Transportation, recently partnered with a nationally recognized high school for nanotechnology research and practice.
Wheeling High School (Chicago, Ill.) invited Taylor Feb. 21 to speak with high school students and demonstrate nanotechnology laboratory practices with concrete. Wheeling High School is home to a nanotechnology laboratory – the only one if its kind in a U.S. public high school. Taylor lent his expertise on the effects of deicing salts as well as micro- and nano-silica effects on concrete. He also mentored groups of students on their science fair research projects.
"I was impressed with how Wheeling High School students handled state-of-the-art laboratory equipment," Taylor said. Students there were skilled in electron microscope scanning and atomic force microscope scanning – technology conventionally learned at the postsecondary and graduate school levels. "It was apparent that Wheeling High School leads the nation in preparing future nanotechnology researchers."
The high school opened its nanotechnology lab last fall with the likes of U.S. Secretary of Education Arne Duncan. The lab was developed by the Illinois Science and Technology Coalition through the Illinois Department of Commerce and Economic Opportunity.
Taylor has served as associate director of the National Concrete Pavement Technology Center since 2007. He also is an adjunct assistant professor for the Department of Civil, Construction and Environmental Engineering at Iowa State. He holds a bachelor's degree in civil engineering and a doctorate in civil engineering from University of Cape Town, South Africa.