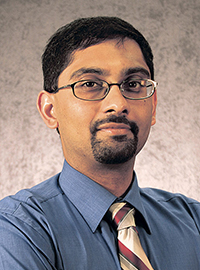 On Nov. 1, Sriram Sundararajan began serving as the next College of Engineering equity advisor. In this role, he will help expand the diversity among the college's faculty and implement ISU ADVANCE goals. He will also lead continued efforts to create an inclusive culture for women and underrepresented minorities within the college.
Sundararajan says he is looking forward to learning about best practices on enhancing diversity and faculty mentoring across the university and beyond, and helping adapt these practices for the college.
He believes diversity can enhance excellence in any enterprise. "The equity advisor can positively impact the college's and university's mission and land-grant ideals," Sundararajan said. "Engaging colleagues across the college in efforts to strengthen our faculty ranks was quite appealing to me, and I'm honored that Dean Rajala provided me with this opportunity to advance the goals of the college."
Sundararajan currently serves as the associate chair for operations in the mechanical engineering department and on the College of Engineering diversity committee. He is a steering committee member for the International Conference on Wear of Materials and a member of the executive committee of the mechanical engineering division of ASEE. He also serves as an ABET program evaluator on behalf of ASME.
Sundararajan has been recognized for his accomplishments with the Young Engineering Faculty Research Award and Early Achievement in Teaching Award at Iowa State.
He replaces Nicola Bowler, who served as the college's equity advisor for the last year.