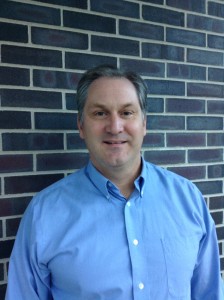 Philip Thompson, Iowa State University electrical engineering alumnus, really liked working with electrical circuits and small battery operated motors when he was growing up. But it wasn't until later in his academic career that he realized that electronics was his life's calling.
Thompson transferred to Iowa State from Iowa Central Community College in the fall of 1983 after taking most of the pre-engineering courses the community college offered.
He said he initially wanted to study biomedical engineering, but ultimately chose electrical engineering during his sophomore year. He says Professor Emeritus Robert Weber inspired him to pursue a career in radio frequency (RF) integrated circuits during his junior year.
At the time, Weber was giving a presentation about research on hand-held GPS receivers. The research was for Rockwell Collins, an international company that designs and manufactures technologies and services for flight-deck avionics, cabin electronics, mission communications and information management.
"When I saw the presentation, I thought that technology was the coolest thing I could work on," Thompson said.
He earned his bachelor's in electrical engineering in 1987.  After starting his master's degree under the direction of Stanley Burns, a professor of electrical engineering at the University of Minnesota Duluth, Thompson seized an opportunity to learn more about RF design and measurement from Weber, who had recently returned to Iowa State to teach.
"His first year back was my first year of graduate school, so I had a chance to work very closely with him," Thompson said. "The work Dr. Weber was doing really got me excited about microelectronics and RF and microwave engineering."
Thompson finished his master's degree in electrical engineering in 1989 and accepted a job offer from Hewlett-Packard in Santa Rosa, Calif.
He returned to Iowa four years later and was hired as a design engineer working on commercial devices used in cellular base stations, called RF integrated circuits, at Rockwell Microelectronics Research Center which had a small design group in Cedar Rapids, Iowa.
When he started at Rockwell, not only did he work on similar types of circuits, but Thompson also worked on virtually the same semiconductor process as Weber and his team. "It just seemed like everything lined up perfectly, like it had come full circle" he said.
A few years later, the former Rockwell Microelectronics Research Center spun off into a new company, Conexant Systems. Conexant Systems later merged with Alpha Industries to become Skyworks Solutions and the design center in Cedar Rapids has grown to a staff of more than 110.
Now, Thompson is a technical director at Skyworks Solutions Inc. in Cedar Rapids. He currently manages a team of electrical engineers and technicians that develop next-generation power amplifier products. He also handles customer support and communication with development partners.
Thompson also helps with recruiting for Skyworks's co-op program, and consults on power amplifier research projects directed by Nathan Neihart, an assistant professor in electrical engineering, at Iowa State.
Neihart teaches the microwave engineering classes EE414/EE514, and Thompson said Skyworks prefers to hire students who have taken that class for the co-op program since he said "it provides a solid background in RF amplifier design and test."
Thompson enjoys being involved in the professional development of electrical engineering students at Iowa State University through recruiting, consulting on research projects, and mentoring co-op students during their employment at Skyworks Solutions.
"If I can ever influence a student the same way that Dr. Weber influenced me—to get them really excited about something, give them an opportunity to work in this field, and provide them the same reward I've recieved all these years—that would be fantastic," Thompson said.