Ever since he built his first AM radio kit in high school, Nathan Neihart has held an interest in electronics and radio waves. Neihart now teaches classes and conducts research at Iowa State University as an assistant professor in electrical and computer engineering.
"My primary area of interest is circuit design, which can be very hands-on and experimental," he says. "I work mainly on wireless circuit design."
Neihart teaches an electric circuits course, which he says is "the first real circuit design class that freshmen can take." He also teaches a senior-level course in microwave engineering and graduate-level courses in integrated radio frequency integrated circuit design.
"I enjoy teaching. I like working with students and helping them succeed in the things that they are interested in," he adds.
In particular, Neihart teaches students in his microwave engineering class about building and testing components found inside radio transmitters that enable wireless communication.
These components include amplifiers, filters and oscillators. Oscillators generate radio signals; amplifiers boost signal strength; and filters help separate important signals from unwanted signals.
A primary component of the class requires students to design and simulate virtual amplifier, filters and oscillators using state-of-the-art microwave design software. The students eventually build real versions of the parts for testing, after which they compare their test results back to computer-simulations.
He says the students enjoy seeing the whole design cycle, and how it impacts testing.
"You can get anything to work in simulation, but it's a totally different story when you have to build and test it," Neihart explains.
Academics and industry team up
Neihart's students can apply their skills in component design and testing in a co-op program with Skyworks Solutions, Inc., an innovator of high performance analog semiconductors enabling a broad range of end markets. Skyworks's solutions can be found in automotive, broadband, cellular infrastructure, energy management, GPS, industrial, medical, military, wireless networking, smartphone and tablet applications.
The partnership provides students enrolled in the microwave engineering class with opportunities that apply class materials in real-world situations.
Philip Thompson, a technical director for Skyworks and an Iowa State alumnus (BSEE 1987, MSEE 1989), says the co-op program hires students for a seven-month term to work on projects. Neihart adds that some students hired for the co-op program have later received full-time positions with the company.
"It is a good experience to see that the concepts we learn in the lab are what they do in industry," he says.
Boosting signals and saving energy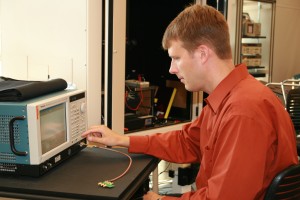 In addition to teaching, Neihart is working on a research project, supported by Skyworks, to develop a signal-boosting component found inside wireless devices, called a power amplifier.
A signal is a packet of information, such as an image, voice message or text message that is often communicated using wireless devices. Signals ride on invisible channels located at different frequencies to travel from one wireless device to another.
Neihart says wireless devices, such as cellphones, use many different frequencies to send packets of information. For example, service providers, such as U.S. Cellular and Verizon, use different frequency bands, and different frequency bands are also used in different parts of the world.
He adds that an average smartphone may use up to 10 different power amplifiers to communicate on all of the required frequencies.
For most modern cellphones, Neihart says the power amplifier consumes the most power after the computer-processing unit, and being able to conserve power in the amplification process would translate into longer battery life in mobile devices.
That is why his research project is focused on developing a single power amplifier that can operate over multiple frequency bands.
Tapping into hidden bandwidth reserves increases wireless communication speed and efficiency
According to Neihart, the project could reduce energy usage while covering wide bandwidths.
Bandwidth is essentially a signal's size, which limits the amount of information that can be transmitted in a given frequency band at any given time. Streaming video, for example, requires a very wide bandwidth while sending text messages requires narrow bandwidths.
Neihart says issues can occur when the bandwidth of one signal expands too far and overlays onto another signal.
"You can't put two wide-bandwidth signals too close together or they will overlap and the signal of interest will become corrupted," Neihart says. "We have a lot of wireless devices that operate at different frequencies, but we are running out of available frequencies in which new devices can operate."
He compares frequency bands to seats in a movie theater during a midnight premiere, which often creates a surplus of customers and limited space. Now, imagine if a few individuals pay for more seats than their party needs.
"There would be a large set of empty seats at the theater that no one else could use because someone else has already paid for them," Neihart says.
Similarly, people pay for large amounts of frequencies that often go unused.
"In an ideal world, if you wanted to stream video, for example, you could borrow bandwidth from somewhere else and have good quality," Neihart explains. He adds that increasing efficiency in bandwidth usage will allow more electronic devices to come online with wireless features and reduces the cost to develop new wireless technology.
"It would be good if we had a radio that could make use of that unused spectrum, reducing overall energy consumption, especially in a place like Ames, where there is so much of this spectrum out there," he says.