by Thane Himes
Sneha Singh, PhD student in computer engineering, received the prestigious IBM PhD Fellowship for the 2013-14 academic year. She earned this award for her extensive research in stream processing. While she is thankful for the award, she also feels motivated.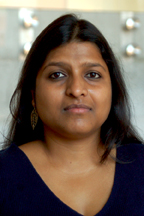 "This award has opened several avenues for me and I have to make myself capable of grabbing these opportunities," Singh said.
Singh's research is based on real-time and online data analytics. She's working toward developing algorithms to monitor and process data streams, including network data, telecommunications data, or any other data with a continuous stream. Her goal is to identify patterns or anomalies from large data streams in real-time, soon after they emerge. Current state-of-the-art uses offline processing, which can entail a delay of many hours or days. Real-time methods can help in detecting network attacks and anomalies in a more timely manner.
"The goal of our current work is to design algorithms to identify events occurring in streams which occur regularly, but are not very frequent. These are called persistent events," Singh said.
Singh's algorithm can be used to identify botnet traffic attacks (malware, spam), where messages are sent to compromised end hosts on a frequent basis, but in a stealthy way to avoid detection. It also can be used to detect fraud in pay-per-click online advertising. With pay-per-click advertising, an ad agency puts up an ad for a company online, and charges their client every time someone actually clicks on the ad. But this kind of model is frequently a target for fraud.
"Rival companies take advantage of this feature and sometimes generate click frauds for these advertisements so that the concerned companies end up paying much more for their advertisements, and are deprived of their revenues," Singh said. "These click frauds are regular but generally stealthy in nature so that the rival companies can evade detection."
Singh has been interested in engineering since she began her education. She attended the National Institute of Technology in Durgapur, India, where she excelled in math and took an interest in computers. It was there that she joined the Department of Information Technology for her bachelor's program.
"As an undergraduate, I developed interest in algorithms and networking, and hence decided to pursue research in computer engineering," she said.
Singh's research hasn't been without its challenges. She says her biggest challenge has been getting access to massive real-time data streams to conduct her experiments in the first place, as well as learning about the software she used for her research.
"Learning a new software tool comes with many challenges," Singh said. "So I faced some challenges while learning about the streams processing tool that we use for our research; IBM Infosphere Streams."
Stream processing is an emerging research field, so proper guidance is essential to solving a problem. Singh has been working under the supervision of ECpE associate professor Srikanta Tirthapura, who has helped her with the challenges of her research.
"In research, it is always helpful to go through available literature and documentations as much as possible," Singh said. "Sometimes, it takes more than simple efforts to achieve the desired result; it requires patience and a lot of time."
Singh's fellowship will cover her with an education allowance as well as a stipend for the academic year. She would like to thank Professor Tirthapura for his guidance and for nominating her for the award; Sam Ellis, who is her mentor for the duration of her PhD fellowship; and IBM for considering her worthy of the fellowship.