At the end of October, a select group of 73 engineering educators from around the country will be gathering in Irvine, Calif., to discuss innovative approaches to teaching during the National Academy of Engineering's fifth Frontiers of Engineering Education symposium.
Iowa State's Tim Bigelow, assistant professor of electrical and computer engineering and mechanical engineering, and Raj Raman, professor of agricultural and biosystems engineering, were nominated by the dean and selected from a highly competitive pool of applicants to attend the event.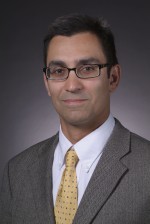 "It's an honor to have been chosen to participate in the NAE symposium," Raman said. "We get fragments about innovations in engineering education through the literature, but this will be a great opportunity to meet with faculty members and hear firsthand what others are doing."
He adds that an important focus for him is maintaining ABE's and the College of Engineering's blend of theory and practice in the classroom, which is becoming more of a challenge as record numbers of students are seeking engineering degrees.
One way he has done this is by changing the way ABE students learn programming early in their studies. He says in a freshman engineering class, he and other faculty members in ABE and ME have started integrating sensor boards that are plugged into computers to take measurements of properties such as temperature, light and acceleration. The engineering students then write code to record and analyze the data, giving them a real-world interface to practice their skills.
Working with the Research Institute for Studies in Education, Raman assessed pre- and post-attitudes toward programming in both the group who received this different instruction and some control groups during fall 2012.
"We saw a significant change in their comfort level with programming and how much they perceived themselves to have learned in programming with the new method," he said.
Raman is also the associate chair for teaching in ABE, educational co-director for the USDA-funded CenUSA Bioenergy Project, and university education director for the NSF Engineering Research Center for Biorenewable Chemicals (CBiRC), where he oversees the graduate minor in biorenewable chemicals and runs summer research programs with undergraduate students. He also assists CBiRC by performing technoeconomic analyses to estimate how cost-competitive the biobased products would be compared to the petroleum-based products they are up against.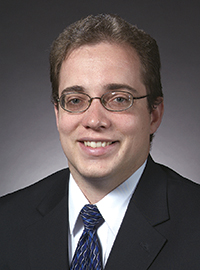 Bigelow is attending the symposium with a new project in mind, and he hopes to find knowledge and possibly collaborators to create a platform that will help faculty more effectively teach larger sections of courses.
He is currently teaching EE 448: Introduction to AC Circuits and Motors. It's a class that has more than 180 students, and providing traditional feedback and assessment through written homework and tests is not practical.
Recently, Bigelow used an assessment tool through Blackboard to allow students to receive immediate feedback on their homework problems while reducing the time needed to grade the homework. The students were still required to turn in a paper copy of their work, but Bigelow says they could work through the problems and identify where they were having difficulties, allowing for more fruitful interactions during office hours.
Now, he's ready to take the technology to the next step by providing students individualized homework problems. Every student would receive the same basic problem, but the numerics of the problem would be slightly different. The different numbers would require the students to work through the problems on their own while the basic the similarities in the problems would allow them to work together when mastering the essential concepts.
The larger vision, though, rests in iterative exams that give students who might have missed something on a problem a simpler set of problems to help assess their knowledge at all levels.
"Customizing assessments allows professors to give students partial credit while also helping the learning process," Bigelow said. "Developing this platform and figuring out the logistics on how to make it work will take some insight, and this symposium is a great way for me to work with others to give students better quality education."
Bigelow also teaches ME 370: Instrumentation and researches medical ultrasound as well as communications and signal processing.