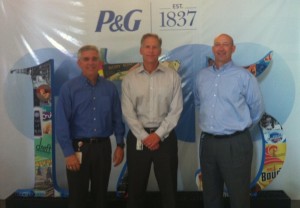 Graduates of the College of Engineering find careers in many parts of the world, but it's not often three from one class take jobs with the same company, start at different locations and travel around the country before settling down in the same human resources department.
That's the story of Jim McWhirter, Steve Bean and Mark Biegger—three 1984 industrial engineering alumni who went to work for Procter & Gamble straight out of college and found themselves transitioning from engineering positions to managing employees at the company's headquarters in Cincinnati, Ohio.
Currently the director of human resources for global employee and labor relations, Jim McWhirter interviewed with the Procter & Gamble plant in Iowa City after college, but he was referred to Green Bay, Wisconsin, to start a job in product supply manufacturing.
Steve Bean began his career with the company in Iowa City as a team manager for Head & Shoulders packing. Today, he works to develop leadership on a national level as the associate director of North America Talent.
Another expert in leadership, Mark Biegger started in the Green Bay plant after college as a team manager for Bounty. His career took him to several plants and overseas before he landed in Cincinnati as the chief human resources officer.
All three graduated together in a class of about 120 industrial engineers. Biegger and Bean had studied together during college, but McWhirter didn't know them at the time.
He met Biegger when they started in Green Bay, and it wasn't until a few years ago that he and Bean were introduced by their wives and then began working just a few desks apart.
"It's kind of amazing that we started off together, we kind of split up and went our separate ways, and now we're very close together again," says McWhirter.
Though each took a different path to their current positions, they all have fond memories of Iowa State and a passion for their jobs. And they agree that Procter & Gamble's strong values are the main reason working with the same company for so long has been easy for them.
Engineering builds confidence to 'tackle anything' for Jim McWhirter
McWhirter chose to study industrial engineering despite a high school math teacher trying to discourage him from the field. He decided to see how long he could make it and ended up staying and earning his degree.
As a result, he has discovered the countless benefits that come with an engineering degree, including chances for promotion. After his first year, he held several management positions and was associate director of human resources before becoming the director three years ago and recently adding global labor relations to his position.
"Industrial engineering most closely related to the human factor of approaching problems and looking at situations," says McWhirter. "I didn't know at the time that I had an interest in human resources, but I think that drew me to industrial engineering."
McWhirter says being an engineer gave him the confidence to face challenges, starting with his education at Iowa State. Looking back, he says the College of Engineering taught him how to approach and solve problems in a macro sense, which has served him in all aspects of his career.
Procter & Gamble hires most engineers into technical roles, he says, but there are great opportunities to move into other areas of the business—like human resources.
"That's why I'm such a fan of the versatility of an engineering degree," says McWhirter, who has a daughter and wife who are both engineers and a son studying engineering. "I think it goes back to the way ISU teaches us to look at everything."
Currently in a global role at Procter & Gamble, McWhirter has many responsibilities working in Employee and Labor Resources, something he says is both challenging and rewarding.
"One thing that keeps me at Procter & Gamble is that we continue to be able to build our capabilities throughout our careers," he says, "I'm still learning every day, and with everything I learn I realize there's more I don't know."
McWhirter says he uses the thought processes and problem-solving methodology he learned at Iowa State "over and over again" in his career and has been very successful with them.
His nearly 29 years with Procter & Gamble have been extremely fulfilling, and that makes staying at the same company enjoyable. "I get up and look forward to coming to work every day, which—after this long at one place—I think says a lot."
Steve Bean learns how to work with people through ISU activities
Excelling in math and science, Bean was encouraged to study engineering and chose Iowa State for its well-known program. He didn't know which engineering field he liked until he spoke to juniors and seniors about their current work and future plans, and then it became a clear choice.
"I tended to gravitate more toward the work that industrial engineers did, particularly as it seemed to relate more to people and process improvement work, which were two areas I was interested in," Bean says.
His interest in working with people led him to the professional development side of human resources, and Bean now directs all leadership development, learning development and talent supply work for Procter & Gamble in North America.
Starting out in a management position, Bean says he's always enjoyed leadership roles. While at Iowa State, he was able to hold leadership positions with his fraternity and other organizations.
Like McWhirter, Bean says the best part of engineering is the array of opportunities it offers. "It's a great variety of things you can get involved in as an engineer," he says. "It's a set of skills and tools that you're given, and the way you can apply those varies significantly."
Many of those skills were learned during college. Bean can think of several lessons from Iowa State that have been beneficial in his professional life, especially working with others.
"How to engage with people, how to get a group of people to share a common vision and work together to develop that vision—I learned a lot of that through the activities I did at Iowa State," says Bean.
Putting those lessons into action has helped him with his transition from engineering to human resources, and Bean says he's built his knowledge over time.
"I really enjoy the fact that I've been able to continually build on my skills and take on new opportunities and new challenges," he says. "And the fact that I learn something new in the process."
Learning opportunities and the possibility of growth are two more reasons Bean has stayed with Procter & Gamble for so long. "The people that are part of Procter & Gamble are very successful. They really allow individuals to get to their highest potential."
Passion for leading gives Mark Biegger early experience for career
Originally from Des Moines, Biegger's career with Procter & Gamble has taken him to Wisconsin, Illinois, Ohio, and even England for a few years before settling down in Cincinnati.
An interest in coordinating and leading activities combined with an aptitude for math and science made industrial engineering seem like the perfect balance for Biegger.
Although he always wanted to study engineering, Biegger had a mind for management, and his first role at Procter & Gamble was more business-oriented and only encouraged that thought.
In 1994, he earned his MBA from Xavier University—10 years after he started working at the company—and quickly moved on to bigger leadership positions.
He says the leadership roles he was able to have at Iowa State, especially in his fraternity and with Dance Marathon, help him now in his career, but adds that without his education he wouldn't have even been considered for the job.
Biegger credits engineering for opening doors and giving him many career opportunities from the very beginning. "It gave me access not only to technical career options but also to a more general career," he says.
Procter & Gamble gives its employees responsibilities right away, something Biegger says he loves about the company.
"Four weeks after I left Iowa State, I was managing a team of 30 to 35 people," he remembers. "The opportunity to have significant leadership responsibilities even from the early days is one of the great things about working here."
Now, at the top of human resources, Biegger oversees 121,000 people located in more than 80 countries. His responsibilities include the intake, development, movement and application of people.
Biegger's passion for his job shows when he explains why he's stayed with the company for nearly 30 years. "Procter & Gamble is more than 175 years old and just a great institution," he says.
"We have great people. We're continuously recognized for our leadership development, our diversity and a number of things associated with our people. Our PVPs—Purpose, Values and Principles—really define the core behavioral expectations and are aligned with who I am as a person."
A shared path lies ahead
Since they are located in the same building, the three men see one another often, and Bean and McWhirter even live just a few blocks apart. Now they enjoy working together and growing their friendship.
"They've been long and different paths to end up here," says Bean. "It's like we left Iowa State, went on these long journeys and ended up in the same place. Life is funny that way."