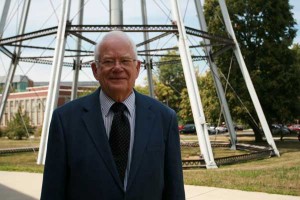 When Thomas McGee became an as assistant scoutmaster for his son's Boy Scout troop in 1963, he had no idea a casual conversation about bone implants would inspire 50 years of research.
Not to mention a new type of implant he would eventually develop that helps guide bone regeneration.
"It's really an exciting project that has a lot of possibilities," McGee says. "After so many years of experiments to get it just right, I think we are ready for human applications."
Finding the best people for the job
It all started when McGee, professor emeritus of materials science and engineering, was talking to Scoutmaster Phil Pearson, doctor of veterinary medicine and formerly an orthopedic surgeon at Iowa State's College of Veterinary Medicine. Pearson would also later become the college's dean before retiring and becoming a professor emeritus in 1996. The two were discussing porcelain that was used for bone replacement in Germany during WWII.
"I knew porcelain wasn't the way to go," McGee remembers. "After thinking about it more, I realized if we could make a ceramic containing calcium phosphate, we might have something valuable."
That's when McGee asked Pearson to help evaluate a new material—an Osteoceramic for artificial bone and teeth implants. They decided to test the material in dogs.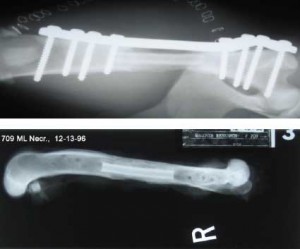 Seniors in a course on applied ceramic engineering made artificial tooth implants during the fall quarter of 1963, and Pearson implanted the material in the soft tissue of a dog during the following winter quarter to compare the new Osteoceramic with metal and plastic implants being used at the time.
"The veterinary pathologist reported our implants were as good as what they were currently using," McGee says. "That initial success was the basis for research in Iowa State's former biomedical engineering program."
Ceramic bone and tooth implants remained a side project for McGee until he turned 65. At a point in his career when he could have retired, McGee ramped up his research through the bioengineering program, and his project has been going strong since.
For the past 20 years, he has been working to get the artificial bone implants into human clinical trials.
He says a contact with the Walter Reed National Military Medical Center through former graduate student Erik Manatt resulted in an invitation to submit a whitepaper on Osteoceramics to the Defense Advanced Research Projects Agency. DARPA concluded the implants were developed enough for immediate use, and McGee started looking for ways to make this happen.
"I talked with Sharron Quisenberry (former vice president for research and economic development at Iowa State), and she helped us get connected with the right people and obtain funding," he says.
The benefits of a smart material
McGee has confidence in the potential his Osteoceramic represents, offering a medical breakthrough for those in need of a bone implant.
Currently, ideal bone implants come directly from another bone in the same patient (autograft), resulting in a void where the bone was obtained. This process also comes with an added risk of infection and pain. An alternative procedure is to use cadaver bone (allograft), which is not as successful and requires more time for the body to adapt to it.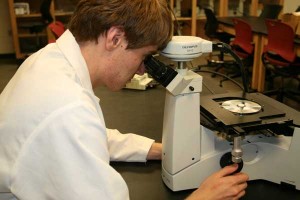 McGee says since neither an autograft nor an allograft offers the most ideal situation for the patient, Osteoceramics are superior.
One implant material he designed is a hollow cylinder with grooves that guide bone to completely encapsulate it. When the bone bonds to the implant, it prevents rotation while it accommodates pulling and pushing and bearing weight, making the bone/implant assembly completely functional.
The material contains calcium phosphate to induce rapid growth. "In some of our trials, we saw bone growing through the implant in only 21 days, which is much faster than current methods," McGee explains.
He adds that if a crack forms in the implant, it can release the calcium phosphate to spur bone growth and repair the crack. "There really is nothing out there like this smart material. It can make a big difference in the medical field," he says.
McGee, along with several undergraduate and graduate students, design and manufacture the Osteoceramic implants in a laboratory on campus.
The group made nearly 100 implants for the preclinical testing in Iowa City, and McGee notes that the material is easy to machine and can be customized to meet the patient's needs.
Expanding the opportunities
McGee's business plan for Osteoceramics is laid out in a growth tree, and has roots representing several device patents, a trunk being method patents, and branches indicating the many applications of the material.
With nearly all the patents he needs for things to really start growing, McGee says the company is on the brink of making an impact in the health field. He identifies three primary, specialized areas of human application: orthopedics, spinal, and dental. Within these areas, uses range from fracture/trauma repair to infection prevention. Veterinary applications are also expected.
He adds that his background—which includes bachelor's degrees in mechanical engineering and ceramic engineering, a master's degree in industrial engineering, and doctoral degrees in metallurgy and ceramics (all from Iowa State)—is what has helped him create a material with such potential.
"I was able to come at this issue with a different vision than most because I know a little bit about the biomedical field, and I'm an engineer who understands application," he says. "We have incorporated unique concepts into this implant that make it a one-of-a-kind product that can change the procedure for bone grafting.
"It's great to be part of this level of innovative research. That's what being an engineer is all about—using our knowledge and perspective to create new and valuable products."
Now, McGee needs to build his case to convince surgeons that Osteoceramics promise superior results in areas where there are urgent needs. "We are continuing to work toward FDA approval, and we plan to conduct animal trials supervised by surgeons in prestigious research positions to convince them human applications should begin."