Kaitlin Bratlie, assistant professor of materials science and engineering and chemical and biological engineering at Iowa State University, is the recipient of a grant from the Roy J. Carver Charitable Trust of Muscatine, Iowa.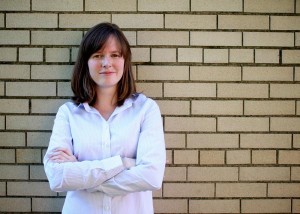 The Carver Trust has awarded $344,451 to Bratlie for her research of materials that can be used to deliver drugs to fight lymphoma while strengthening the immune system's response to the cancerous cells.
Bratlie currently has several projects dedicated to reprogramming macrophages, or cells that remove bacteria and debris. With the grant from the Carver Trust, she will focus on amplifying the response of macrophages to chemoimmunotherapy, which is a type of chemotherapy that works with the immune cells to remove cancerous cells.
"Using this approach, the drugs used to treat lymphoma will attach to the malignant cell and signal to macrophages and other white blood cells that the cancerous cells should be phagocytosed, or digested," she explained. "Our plan is to use polymers to deliver the chemoimmunotherapeutic agent and to alter the type of macrophage so that the cancer is more effectively removed."
The project will support two graduate and two undergraduate students, as well as materials and supplies. The group will conduct a wide range of experiments to determine how macrophages can be exploited to destroy lymphoma cells, including biochemical assays and cell culture techniques.
"This research has the potential to affect many other areas of biomedical engineering. For instance, many tissue engineering and artificial organ applications face the challenge of delivering oxygen and nutrients, while also removing wastes, to an implanted material. Our approach could offer an improved way to integrate these important elements, allowing for better acceptance of the artificial implant," Bratlie said.
The Roy J. Carver Charitable Trust is one of the largest private philanthropic foundations in Iowa with assets of more than $280 million and annual grant distributions of more than $12 million. It was created through the will of Roy J. Carver, a Muscatine industrialist and philanthropist, who died in 1981. Since it began its grant-making activities in 1987, the Carver Trust has distributed more than $300 million in the form of nearly 2,200 individual grants. The Carver Trust focuses its charitable giving on biomedical and scientific research; primary, secondary and higher education; and youth-related needs.