Four researchers in the Iowa State Department of Electrical and Computer Engineering were awarded the prestigious National Science Foundation Faculty Early Career Development (CAREER) award in 2012. Santosh Pandey, Aditya Ramamoorthy, Umesh Vaidya and Joseph Zambreno each earned awards and pushed the department's total number of NSF CAREER Awards to 16. The four awards represent the most in a single year by ECpE researchers.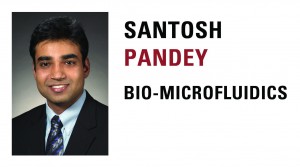 Pandey is developing a new engineering platform to observe, sense, and modulate interactions between plant roots and pathogens. His research aims to develop effective and sustainable control strategies against plant diseases.  He plans to develop a Plant-in-a-Chip system for the growth of Arabidopsis plants, realize chemical schemes for sensing and modulating auxin in plants and build on-chip electrical schemes for sensing root health and manipulating pathogenic interactions with roots.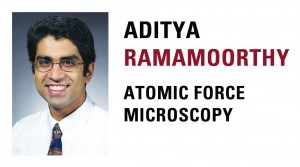 Ramamoorthy is researching Atomic Force Microscopy (AFM), which uses a thin cantilever to examine materials at high resolutions. With soft or fragile materals, observers use what is called tapping mode. This mode involves oscilating the cantilever at a certain frequency and observing the effects of oscillation without damaging the medium. Ramamoorthy's research involves the use of signal processing algorithms to characterize and image soft materials in a fraction of the time taken by conventional methods. Read the full story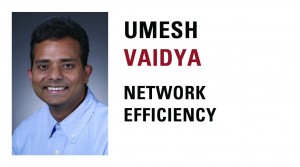 Vaidya's work identifies uncertainties within network systems and then proposes ways to make those systems run as efficiently as possible given the uncertainties.
Vaidya is applying aspects of Ergodic Theory to identify critical factors that are responsible for complex changes in a network system. Vaidya finds uncertainty in network systems and determines how that uncertainty affects the system as a whole in order to make the system run more efficiently.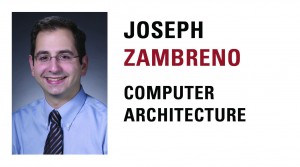 Zambreno is researching ways to combine CPU and GPU processors into a single, hybrid chip. Traditional computer architecture includes a CPU and a GPU handling separate tasks. Today's "fused" chips feature integrated CPU/GPU designs which promote faster interfacing and more efficient use of processor power. However, today's model utilizes a CPU and a GPU performing the same roles they always did, just in closer proximity. Zambreno wants to combine the two chips to get the best of both. Read the full story