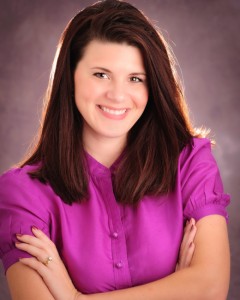 Sondra Ashmore, PhD student in human computer interaction (HCI), is part of the Business Record's Forty under 40 Business Leaders Class of 2012.
The award recognizes 40 local business leaders under the age of 40 for their career achievements and community involvement. Ashmore and her peers will be honored during a reception on March 27.
A lifetime learner, Ashmore is back at Iowa State after earning her bachelor's degree in communications studies in 1999. She says her undergraduate degree has helped her with the presentations and other communications activities she does in her current role as an executive portfolio manager for IBM.
During her undergraduate program, she worked as a research assistant for Scott Chadwick, an assistant professor at Iowa State from 1997–2003. Chadwick recognized capabilities in Ashmore she didn't realize she had, and when he suggested she apply to engineering programs for graduate school rather than liberal arts programs, Ashmore says she was skeptical she would be accepted.
Not only was she accepted, but she also received a scholarship.
With two master's degrees from Rensselaer Polytechnic Institute in technical communication/HCI and management, Ashmore began her career with IBM as an engineer. "Nobody is more surprised than me that I have spent my career in an engineering field, but I am certainly glad I took my professor's advice," she said.
Four years into her time with IBM, Ashmore transitioned into management and now coordinates all of IBM's data protection and retention products worldwide.
Earning her PhD while still advancing her career at IBM is something she greatly appreciates about Iowa State's HCI program. Additionally, Ashmore says the interdisciplinary program has allowed her to combine her interests in technology and business.
"I am studying HCI because I do not think technology needs to be complicated," she said. "I would like the user experience to be at the forefront of every design discussion. I think usability sells a product."
Her dissertation focuses on agile development, a methodology where a product is developed incrementally through collaboration between teams. She says the approach can help create a more usable product by involving customers as a key collaborator during the development process.
Being part of the 2012 Forty Under 40 is an honor for Ashmore. "There are so many fantastic business leaders to choose from in Iowa," she said. "I am humbled to be part of such an amazing group of business leaders."
She adds that mentors and sponsors have played an important role to helping her achieve her business success. "Mentors provide important advice based on their experiences. Sponsors are a champion for you when you are ready to take the next step," she explained.
As a leader within IBM, Ashmore enjoys the opportunity to serve as a mentor and sponsor for others. She says there are several characteristics that have helped her as a leader. Among them are showing appreciation and respect for team members; encouraging your team to make challenging, but reasonable goals; and asking questions and listening carefully to the answers because the smallest detail could lead to the next big idea.
"Within goal setting, there has to be balance," she said. "If team members are are too comfortable, then they are not achieving their true potential. If the goals are not realistic or attainable, the team cannot build momentum from a successful environment."
With Ashmore  graduating with her PhD this spring, her desires to learn and achieve more will drive her to continue to realize accomplishments throughout her career, but she adds that "perhaps most importantly, I am always trying set an example of success for my sons."