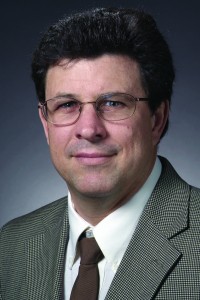 Iowa State University will soon become the first institution to award students PhD degrees in Wind Energy Science, Engineering, and Policy (WESEP) thanks to a $3.1 million, five-year grant from the National Science Foundation (NSF) Integrative Graduate Education and Research Traineeship (IGERT) program.
James McCalley, Murray J. and Ruth M. Harpole Professor in Electrical Engineering, is leading the program, which aims to advance wind energy knowledge, develop high impact wind leaders, and impact the wind energy community. His team is comprised of 4 co-principal investigators and 15 faculty members from Iowa State's College of Liberal Arts and Sciences, College of Agriculture and Life Sciences, and College of Engineering, including fellow ECpE faculty members Assistant Professor Dionysios Aliprantis and Associate Professor Nicola Elia.
The program, which is a collaborative effort with the University of Puerto Rico – Mayagüez, will support a total of 28 domestic PhD students over the next five years, and will provide them with multidisciplinary training in the skills required for conducting research in engineering, science, and policy-related disciplines.
According to McCalley, the program's research is focused on increasing wind energy growth rate, reducing costs, and extending penetration limits of wind energy. "Our nation's most pressing problem today is arguably meeting energy needs while reducing global climate impacts. Because wind energy emits no greenhouse gases and is relatively low-cost, broad consensus exists that the future U.S. energy portfolio must contain a large wind energy component," McCalley says. "The vision is to strengthen the nation's wind energy resources by producing technical experts, effective communicators, and ethical decision-makers who lead the U.S. transformation to a high wind energy portfolio."
Because the team believes that effective leaders in the wind energy community will need to have a broad perspective to address wind energy challenges, the program will broaden students' academic exposure through three distinct types of experiences: interdisciplinary, industry, and international.
Interdisciplinary: The interdisciplinary features of the program will promote systems thinking from an array of skills rooted in engineering, agronomy, agriculture, economics, environmental science, sociology, and statistics.
"These topics will be reinforced through hands-on experience with hardware and field data via access to one or more of ten wind plants near Ames; wind turbine data from one or more of five large wind plant owners in Iowa; developing Iowa State-owned turbines near campus; access to manufacturers; and coursework activities in on-site labs, including the Wind Tunnel, Alternative Energy Grid Infrastructure Systems (AEGIS), and Wind Energy Manufacturing Lab," McCalley says.
The program also will use a three-level curriculum structure and team-based research projects to provide a foundation of interdisciplinary skills and knowledge for career-long learning and problem solving. The first level includes two newly-designed interdisciplinary courses that all WESEP students will take as early as possible in their program, aimed at exposing students to the full spectrum of science, engineering, and policy issues that pertain to wind energy.
The second level includes a group of courses from the relevant disciplines of each of the program's five research thrusts: wind resource characterization and aerodynamics of wind farms; wind energy conversion system and grid operations; manufacturing, construction, and supply chain; reliability and health monitoring; and wind economics, policy, and public perception.
"Students are required to take five courses from a 'major' thrust area, providing disciplinary depth, and three courses from one other thrust area, providing interdisciplinary breath," McCalley says. "Students can take additional courses within the other thrust areas as needed for their research, but the requirement ensures students are research-capable in two thrust areas."
Two additional advanced "specialization" team-taught courses will be developed for the third curriculum level. The courses will provide students with depth in the research areas most closely aligned with their dissertation topic.
Additionally, a real-time research collaborative course will be required of all WESEP students and faculty each semester and will serve to integrate teams and develop research skills. Research teams of three to four students and their supervising faculty will address a research objective that corresponds with the students' objectives.
Industry/international: The industrial features of the program will include strong interaction with industry and national labs via the Project Advisory Board as well as a three to six month internship, while the international features will include a 3+ month visit to one of the program's international partner universities in Ireland, Germany, Denmark, China, or Spain.
"The internship and international experiences will provide practical applications for students' research without extending their time-to-degree since students will be able to continue work on their dissertation topics," McCalley says.
IGERT fellows will receive an annual stipend of $30,000, as well as tuition, fees, and health insurance for two years. Additional support will be available for textbooks, journals, short courses, and professional travel. In the following years, they will be supported via research grants and other funding sources and/or as teaching assistants. The expectation is that all IGERT fellows will be provided a total of three to five years of support depending on the nature of their research and contingent on adequate progress toward the degree.
While there is currently a lot of wind energy research being done at Iowa State right now, the WESEP program is still in its initial stage of recruiting students. "The key to the program is the ability to recruit highly capable domestic students to enter a PhD program," McCalley says. "To this end, Iowa State WESEP faculty have developed a multifaceted recruiting plan that engages with the very best students in universities around the national through frequent faculty recruiting trips, campus recruiting events, and summer undergraduate research programs."
Co-principal investigators on the project include Lisa Brasche, scientist at the Center for Nondestructive Evaluation; John Jackman, associate professor in industrial and manufacturing systems engineering; Partha Sarkar, professor in aerospace engineering; and Gene Takle, professor in agronomy and geological and atmospheric sciences.
Other Iowa State faculty members involved include Bruce Babcock, professor in economics; Carmen Bain, assistant professor in sociology; Bill Gallus, professor in geological and atmospheric sciences; Mike Kessler, associate professor in materials science and engineering; Catherine Kling, professor in economics; Bill Meeker, distinguished professor in statistics; Frank Peters, associate professor in industrial and manufacturing systems engineering; Lulu Rodriguez, professor in journalism and mass communication; Sri Sritharan, distinguished professor in civil, construction and environmental engineering; Judy Vance, professor in mechanical engineering; and Lizhi Wang, assistant professor in industrial and manufacturing systems engineering.