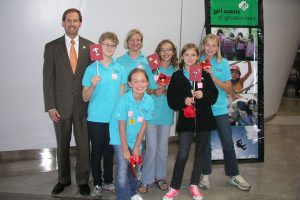 The Flying Monkeys, a group of Girl Scouts and FIRST LEGO League Team from Ames, Iowa, who developed a prosthetic hand device to help a three-year-old toddler without fingers write, received another honor during an event hosted by Iowa State's College of Engineering Recruitment and Community Outreach and the Girls Scouts of Greater Iowa.
On August 29, representatives from the college, Girl Scouts, and community gathered to discuss the Girl Scouts and the organization's mission. During the program, CoE
Dean Jonathan Wickert announced that each of the girls would receive a $1,000 scholarship should they decide in the future to pursue engineering at Iowa State. As he presented certificates to the excited 11- to 13-year old girls, he commented how honored he and the college would be to have each of them become Cyclone engineers.
The team's device also formerly won the group the $20,000 FIRST LEGO League Global Innovation Award from the X Prize Foundation, as well as a provisional patent.
The College of Engineering has partnered with the Girls Scouts to promote science, technology, engineering, and math (STEM). The Flying Monkeys are among over 200 Girl Scout robotics teams that have been formed around the country as part of this Girl Scout initiative.
"These girls are creative and innovative, and the fact that their device is being used to improve someone's life is truly amazing," said Camille Sloan Schroeder, director of Engineering Recruitment and Community Outreach. "We know our collaboration with Girl Scouts promises to give girls the confidence to become leaders in STEM."