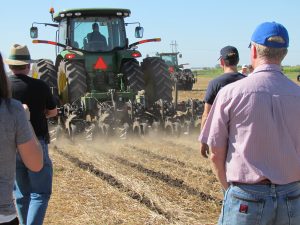 Farmers from all over gathered at the Iowa State University Agricultural Engineering and Agronomy Farm on Thursday, August 25, to participate in a field day hosted by Iowa Learning Farms, ISU Research and Demonstration Farms, and ISU Extension. The field day was focused on educating farmers on strip-tillage and demonstrating precision agriculture technology, a system "designed to increase long-term, site-specific, and whole-farm production efficiencies, productivity, and profitability while minimizing unintended impacts on wildlife and the environment," as defined by the United States Department of Agriculture.
During strip-tillage, farmers create strips of tilled soil before planting and leave surface residue between the strips. This process causes the strip to warm and dry faster than other portions of a field, and has the potential to contribute to better water infiltration and improved soil structure, and could possibly reduce planting costs. Those who attended the field day had the opportunity to network with farmers who utilize the method, converse with crop experts, and watch strip-tillage demonstrations.
The day was filled with four sessions in which guests gained valuable insight into the industry. In the morning, Matt Darr, agricultural and biosystems engineering assistant professor, conducted a session in which he discussed and demonstrated precision agriculture technology. Also holding a session in the morning for the discussion of strip-tillage equipment was Mark Hanna, ISU Extension agricultural engineer.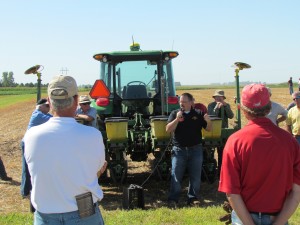 During and after lunch, guests were given time to network with soil and crop experts. The afternoon's sessions featured Roger Elmore, ISU Extension corn agronomist, and Alison Robertson, ISU Extension plant pathologist. At the end of the day, guests left with a wealth of knowledge and an ambitious attitude making yet another field day at Iowa State a success.