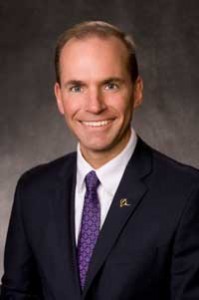 On Tuesday, September 6, Dennis Muilenburg will be presenting "The Boeing Company: Creating Global Advantage." Muilenburg is president and chief executive officer of Boeing Defense, Space & Security, and serves on the company's Executive Council. He earned a bachelor's degree in aerospace engineering from Iowa State University in 1986.
The lecture is part of the Technology, Globalization, and Culture course, and is open to the public. It will be held in the Alliant Energy-Lee Liu Auditorium of Howe Hall from 6 to 7 p.m. A meet and greet will follow.
During his presentation, Muilenburg will discuss challenges facing the aerospace industry; Boeing's continued emphasis on innovation and growth; and the advantages Boeing brings to the global marketplace.
Muilenburg leads Boeing Defense, Space & Security, one of the world's largest defense businesses specializing in innovative and capabilities-driven customer solutions, and the world's largest and most versatile manufacturer of military aircraft. Headquartered in St. Louis, Boeing Defense, Space & Security is a $32 billion business with 64,000 employees worldwide.
Iowa State Daily coverage of the event
Contacts:
Jessi Strawn
Engineering College Relations
Iowa State University
jlstrawn@iastate.edu
515 294-2452
Lisa Maull
Regional Communications, Midwest
The Boeing Company
lisa.a.maull@boeing.com
314 233-5004