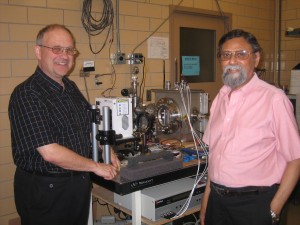 The search for eco-friendly energy sources is a worldwide affair, and researchers are drawing closer to new innovations every day. Among this group of determined professionals is Vikram Dalal, Thomas M. Whitney Professor of Electrical and Computer Engineering.
Dalal, who is working to advance solar energy, recently received the 2011 IBM Faculty Award. He has been awarded $38,000 from IBM to aid his research. "I am delighted that IBM has recognized the value of innovation in solar energy," he said.
Because of the threat of pollution and the potential energy that rests in the sun, solar energy has become a leading alternative to carbon producing energy systems. The National Academy of Engineering, which presents "Grand Challenges" each year, has made solar energy affordability a top priority for engineers. Dalal's response to this challenge rests in a more efficient solar photovoltaic cell.
"We are developing photo cells based on materials that both absorb light and conduct electricity," he explained. Dalal says a photovoltaic cell is based on the principle of light absorption, a process wherein light gets absorbed by a material and creates electrons that can be collected. He added that to collect the maximum amount of light, the material must be able to more efficiently harvest the entire spectrum of visible light.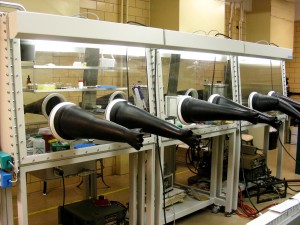 The cells Dalal and his research team are working with are made of organic materials, which are known to absorb light very well but are poor at conducting electricity. To address this issue, Dalal and his team have developed a new architecture that combines an inorganic material with an organic material, and he says preliminary experiments are producing promising results.
For these solar cells to become a reality, the design must reach 10 percent efficiency. "Right now we are at about 6 percent. We hope to get to 10 percent using this new concept, and that will take about two to three years," Dalal said.
Should Dalal's group reach its goals, the future of solar energy will be dramatically changed. Most importantly solar energy will be modified into an affordable source of energy. Structural costs will substantially decrease as the new material is used as a coating on windows. Clients seeking solar energy would simply install these "solar windows" in their buildings rather than using expensive solar panels.
Thanks to the IBM Faculty Award, Dalal will be able to make significant headway in his research. "The funds I received will go towards equipment purchases and to support my 11 graduate students and a few undergraduate students," said Dalal.
The IBM Faculty Award is an annual worldwide competitive program. Each year, IBM employees nominate someone they believe has an outstanding reputation for contributions in their field. Dalal, nominated by senior manager Karl Erickson, was one of 240 nominations this year. In 2011, the company recognized 84 recipients representing 74 institutions and 33 countries.
As Dalal continues working towards more efficient solar cells, he hopes recognition like this award from IBM will help make a name for himself and Iowa State University in the solar energy industry. His connection to the university has been an important element in his research as other funds, such as his endowment fund from the Thomas M. Whitney Professorship, have provided him with finances needed for to support his research and graduate students. Dalal says he is thankful that the university has been a great promoter of his research over the last 23 years.