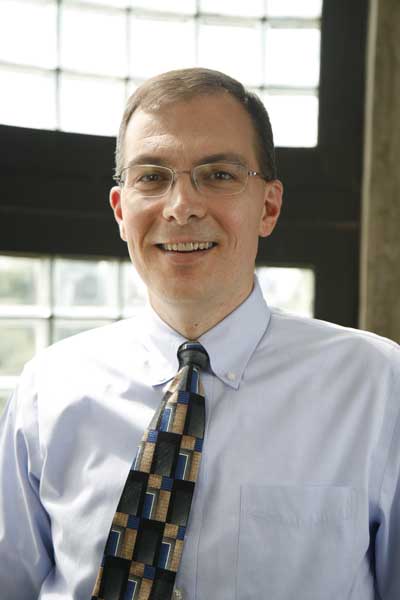 Ted Heindel doesn't use x-rays the traditional way. He wouldn't be interested in checking to see if someone has a broken bone, but he could easily check for voids in a bucket of sand with a gas moving through it—a device commonly called a fluidized bed.
Heindel, interim chair for the Department of Mechanical Engineering and the Bergles Professor of Thermal Science, researches multiphase flow systems in a revolutionary way. His discoveries on the topic are, in part, why he was named a 2011 American Society of Mechanical Engineers (ASME) Fellow.
The group attributed his fellow designation to "his accomplishments in advancing the field of complex multiphase flow systems, particularly with respect to novel x-ray imaging methods and applications to biorenewable technologies, and in serving the profession in leadership roles."
The honor from the ASME Board of Governors is bestowed on only two percent of ASME members and is the highest elected grade of membership. ASME Fellows are nominated by their peers and must have at least 10 years of active practice and continuous active corporate membership in ASME.
Heindel's involvement with the organization includes serving as chair of the ASME Fluids Measurement and Instrumentation Technical Committee in the Fluids Engineering Division and as associate editor of the ASME Journal of Fluids Engineering for four and six years, respectively.
His research, which takes place in the Experimental Multiphase Flow Laboratory he established in 2000, has developed what he calls "unique capabilities." In a one-of-a-kind facility, Heindel and his current graduate students use x-rays to visualize fluid flow in complex fluid systems. His findings provide insight into these complex fluid systems, which are found in a variety of applications, including biorenewables.
"We provide data and gain new insight that isn't available by other means," said Heindel as he explained his interest in using x-rays to visualize multiphase flow systems. "It also allows us to play with some really big toys," he added with a smile.
The ASME Fellow award adds to a growing list of honors and awards Heindel has received. He is the recipient of a number of teaching awards including the Mechanical Engineering Professor of the Year Award (twice) and the Superior Engineering Teacher of the Year Award. He is also a former Binger Professor of Mechanical Engineering. Prior to his time at Iowa State, he also garnered several teaching accolades from the Institute of Paper Science and Technology.