The Iowa State Steel Bridge Team attended the 2011 National Student Steel Bridge Competition (NSSBC) at Texas A&M University May 20-21. The team was awarded 12th place overall.
NSSBC judging criteria is made up of six categories, and the team placed in all of them, taking 8th in lightness, 9th in display, 11th in efficiency, 12th in stiffness, 13th in construction speed, and 17th in economy.
Steel Bridge Team president and senior in civil engineering Nathan Lentz said the team was, "very pleased to be invited to this prestigious competition." Teams from across the United States first competed regionally to earn a spot in the final judging. Forty-eight teams attended NSSBC this year.
Lentz stressed the fact that building a steel bridge involves far more than attending a two-day competition. "The competition is just the analysis part of the year. The team works year-round to produce a bridge of this caliber," he said.
Guidelines are released every August and that is when students begin their work. They spend the fall semester designing a bridge while spring consists of fabrication work. A point of pride for the team is that they are 100 percent student-run. "That means that all of the work involved in the project is done solely by the students and there are no professors or professional fabricators who help," explained Lentz.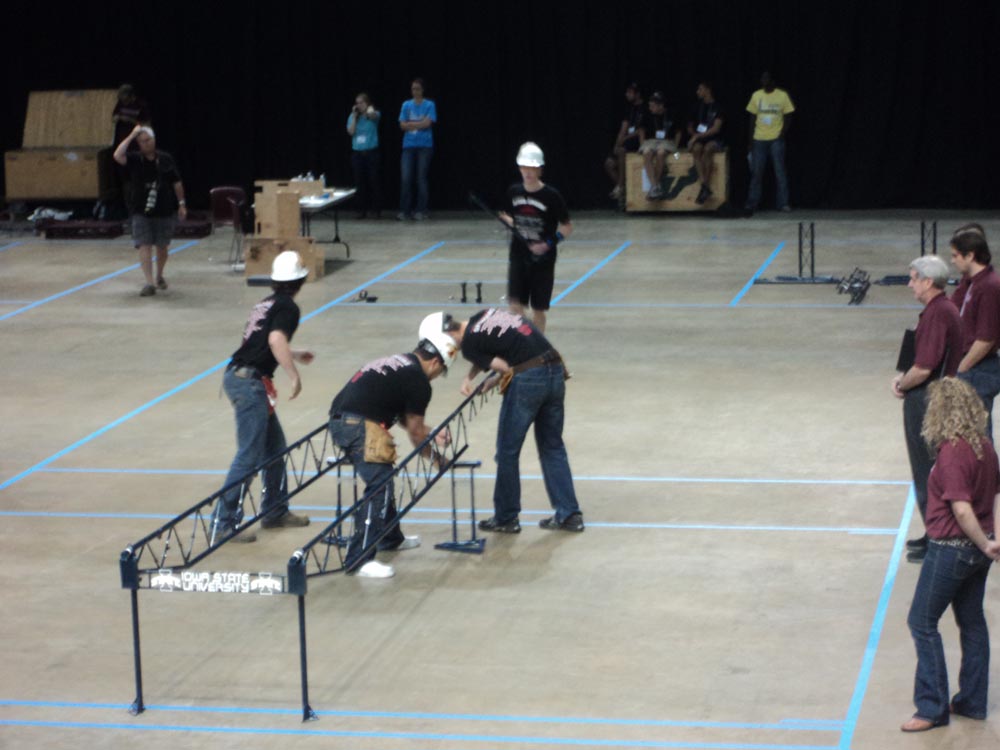 The group does more than build bridges. As a freshman, Lentz joined to meet people and learn more about what civil engineers do. "It has given me skills like leadership and communication, both of which are important in engineering," he said.
Regional and national competitions offer the same kind of double reward. Students test their bridges and vie for awards, but Lentz says competitions are also a great place to meet new people, listen to professionals speak about engineering, and gain ideas for use on future bridges.
Read more about their journey to the final competition.