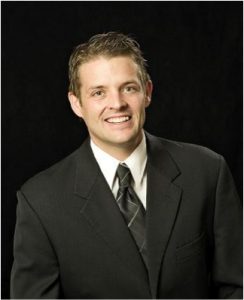 Iowa State University graduate student Timothy Becker has received national recognition from the Society of Professional Engineers. Becker, who graduated from Iowa State in 1994 with a BS in construction engineering and returned 15 years later to pursue a PhD in civil, construction, and environmental engineering, was awarded the 2011 Professional Engineers in Construction George B. Hightower, P.E. Fellowship.
He had a humbled, but excited, response to the fellowship. "I am very honored to be selected for this nationally competitive award," he said. Becker added that in addition to acknowledging his work, the fellowship helps offset the expenses of his education.
The fellowship was established to honor George B. Hightower's contributions to the engineering profession. Each year it is awarded to an outstanding engineering graduate student on the basis of GPA, recommendations, honors, professional experience, and an essay about career goals. The recipient is awarded $3,000 to apply toward his or her graduate education in engineering.
Becker's professional talents and abilities demonstrate why he was selected for this award. After graduating from Iowa State, he moved to Arizona and received an MBA degree from Arizona State University while working full-time in commercial construction and real estate development. He also took on many leadership roles during his career, including vice president of Nelson Development and Construction Services.
After a successful 15 years in Arizona, Becker's thirst for more knowledge led him back to Iowa State in 2009 to pursue his PhD. "I decided to come back because of a desire to contribute to research and higher education in the field of construction," Becker said.
After completing his second year in the graduate program at Iowa State, his ambitions and leadership remain great. Along with his academic and research studies, Becker teaches courses in engineering economics and engineering law. He was also recently elected to the Iowa State University Alumni Association Board of Directors where he will serve a five-year term. As a board member, he assists staff and volunteers in carrying out the goals of learning, scholarship, and engagement as established by the university and other affiliations.
Becker expects to graduate in 2013. He explained that after completing his PhD he has his mind set on a specific career path: "I plan to pursue a tenure track faculty position within a leading school of construction."