This summer, Iowa State's aerospace engineering department will be fine-tuning a program that promises to offer more design experience for the department's undergraduates. The new design sequence, called Make to Innovate, will allow students to receive elective credits for many extracurricular projects they are currently completing for fun.
"We have so many students who are excited about projects they are working on through their involvement in a variety of organizations," said Rich Wlezien, Vance and Arlene Coffman Endowed Department Chair in Aerospace Engineering. "We want that excitement to start earlier in our students' academic careers, and with Make to Innovate, we can provide support that will help keep the enthusiasm up."
Make to Innovate will be a voluntary program introduced to AerE students during their freshman year. It will have designated faculty advisors and more supervised access to laboratories to provide consistency and guidance for the many student-run projects already in place within the department.
"Projects that organizations like the American Institute of Aeronautics and Astronautics, AirISU, and Cyclone Business Jet are busy working on would operate as they do now," Wlezien explained. "We will just be adding some important assistance to these groups."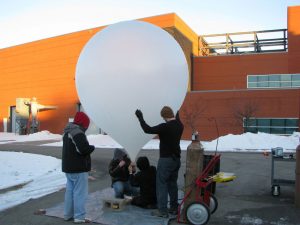 Christine Jensen, senior in AerE, is involved with High Altitude Balloon Experiments in Technology (HABET), a group that would benefit from Make to Innovate. HABET develops weather balloons and launches them into space to gather data, and with Make to Innovate, would receive a permanent faculty advisor and some financial backing from the department.
In addition to projects that include developing a zero-pressure balloon, HABET is working on two major outreach projects. One involves getting experiments into classrooms at Ames High School, and the other is hosting the Second Annual Academic High Altitude Balloon Conference. The conference will be held June 22–24, 2011, and will bring together experts from all fields to discuss areas of high altitude research and engineering.
"With HABET, there is so much to do and experience," Jensen said. "We are getting hands-on experience with things you only read about in class— electronics, programming, structures. Plus we take totally unique ideas and try to work them out." She says many of the programs and electronics the group uses in the lab were designed, built, and executed by students who work there.
Wlezien says HABET demonstrates just some of the important lessons students learn from these types of design projects. "These projects show students how to create something, and they motivate them to learn from their mistakes," he said. "That's why Make to Innovate will be so crucial to our department. These experiences are invaluable."