The next time you're watching a live webcast of a SpaceX rocket launch, you just might be listening to a recent Iowa State Aerospace Engineering (AerE) graduate doing the talking.
Zachary Luppen (M.S. '21), a SpaceX EEE Components Engineer, is one of the newest SpaceX live launch webcast hosts – and he's gotten his first gig under his belt with a recent SpaceX Falcon 9 Starlink mission launch in February, when 51 Starlink satellites were placed into orbit.
View the webcast and hear Luppen's narration beginning at the 4:48 mark (story continues below video).
But the Cyclone Engineer has made his voice heard in a number of different roles with SpaceX. While a graduate student in the Department of Aerospace Engineering he began working for SpaceX as an associate engineer in the summer of 2021. Following his initial experience, he was offered a full-time position as an Electrical, Electronic and Electromechanical (EEE) Components Engineer, which involves being in charge of all electrical connectors and interconnects on SpaceX launch vehicles and handling all electrical component certification work for high-level customer missions. He works at the SpaceX headquarters in Hawthorne, California.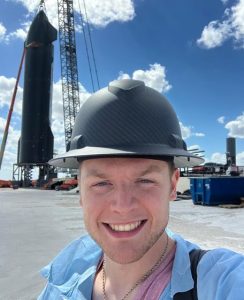 Luppen went through two months of training before joining the launch webcast hosting team, which consists of 12 individuals. It's a feather in his cap that has been the latest gain in his experience with the firm. "I always dreamed of being a rocket scientist, but never knew if I'd get the chance. SpaceX has given me that chance and my graduate program at Iowa State helped pave the way," he says. "Right now, I'm working on about 100 separate launch stackups that we plan to launch entirely this year!"
As of this writing, SpaceX has completed 15 different missions in 2023. It operates the Falcon 9, Falcon Heavy, Dragon and Starship spacecraft programs, and Luppen says he's hoping to expand his involvement in the future. "I would definitely be interested in working on the astronaut training side of things, and helping our passengers to have the best experience possible whether it be a trip to the International Space Station, to orbit, or beyond," he remarks.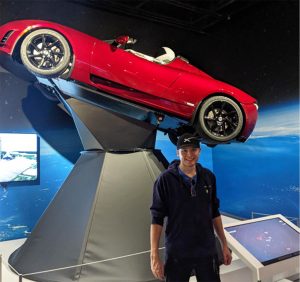 While at Iowa State pursuing his master's degree Luppen was involved with the NASA-funded Iowa Space Grant Consortium (ISGC), part of the Department of Aerospace Engineering. His relationship with ISGC began when he was an undergraduate student before coming to Iowa State. A research project he pitched himself was deemed worthy of ISGC funding with ISU AerE, and he also brought experience he had gained in programming in work with NASA's Jet Propulsion Laboratory – a rare feat for an undergrad.
"ISGC gave me the resources needed to pursue my research projects, and to really develop myself as an independent researcher," he said in biographical material for ISGC. He conducted his research with AerE's Dr. Kristin Rozier and  Dr. Dae-Young Lee, and he is quick to thank them for being instrumental to his success through their teaching and mentoring.
Luppen will continue building his ISU experience to expose the world to the new frontiers abounding in space exploration, through his work as an engineer – and now webcast host – with SpaceX.