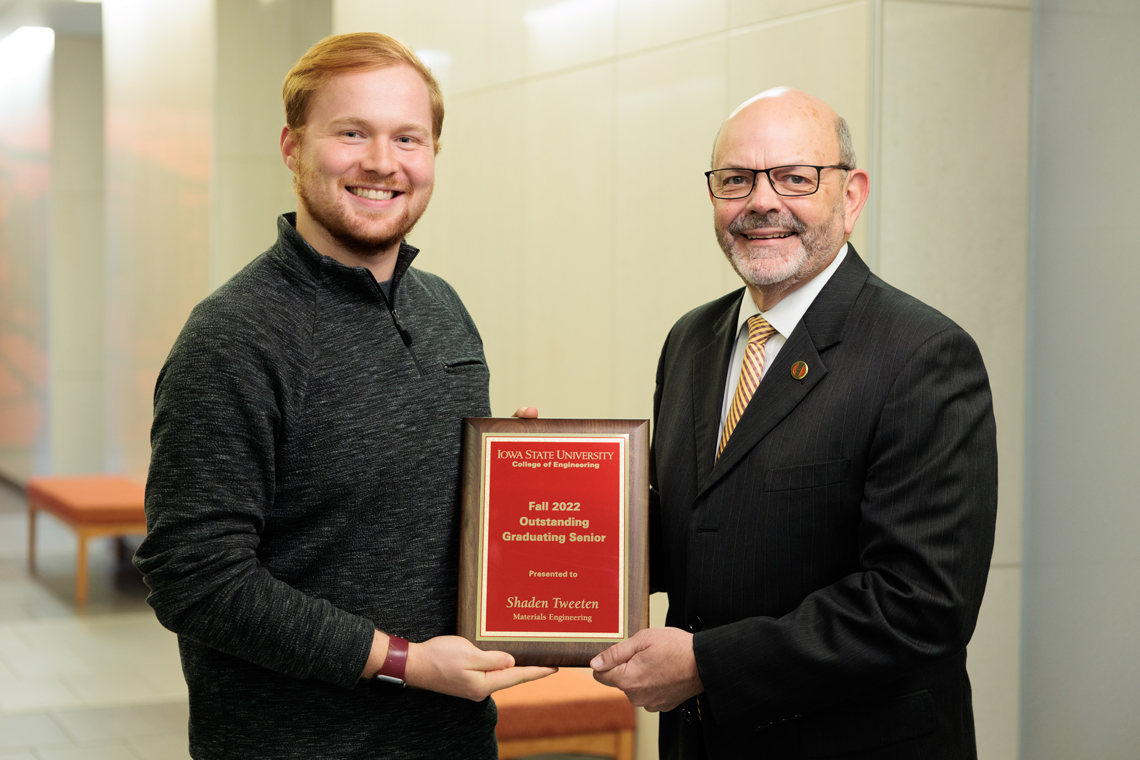 "Becoming a Cyclone Engineer transforms your way of looking at open-ended problems, while encouraging you to consider the ethics and capabilities of potential solutions."
Clubs and activities: Triathlon Club, Recyclables for Music (REFORM), Tau Beta Pi, Material Advantage, a semester as a TA, and an Australian study abroad program. I also worked at the Ames National Laboratory as a student research technician. I can't forget about intramurals – I even snagged a couple of championship T-shirts!
Valuable hands-on learning experience: A project outside of the classroom that developed my organizational skills and professional planning was being the head race director for the CyMan Sprint Triathlon. The CyMan Sprint Triathlon was a comprehensive fundraiser for the Triathlon Club. And not only did it require collaboration with various organizations internally, locally and nationally to ensure participant safety, but it also needed to be a fun and rewarding race.
Tasks included dispatching volunteers and emergency services on the course, designing racer apparel and gear, managing athlete outreach, and prioritizing athletes' health during the height of the COVID-19 pandemic.
Influential mentor: Director of the Materials Preparation Center at Ames National Laboratory Matt Besser. Having a supervisor like Matt, with extensive knowledge of materials science topics while maintaining a positive, student-first environment, has enhanced my professional development. In a year and a half, I was able to tackle laboratory projects and master preparation techniques I wouldn't have imagined doing as a student. I'll be delighted to be half the leader someday that Matt has been for me.
I'd also like to shout out the countless other mentors that got me to where I am today, many from the MSE department but some from other parts of my life too: Holly Dunlay-Lott, Ray Beebe, Alex Syhlman, Alan Constant, Shan Jiang, Martha Selby, Tim Cullinan – and, really, all the faculty and staff at the MSE department. Thank you for believing in me and molding me into the engineer I am today. 
Greatest accomplishments: During my first year, the Triathlon Club traveled by car to Tempe for USAT Nationals. After racing under the hot Arizona sun, banging on the finisher chute walls and losing our voices in a tiebreaker "cheer-off," our 16-member team won the Collegiate Club National Spirit Award!  
Plans after graduation: I am planning to go directly into the workforce. However, I'm considering taking some time to develop my ideas into a business. 
Making my mark on the world: My dream career goal is to help solve the single-use plastics crisis. We only have so many resources on Earth, and we aren't doing any favors to ourselves and future generations by scattering plastic waste all over the world. If we can close our cycle of consumption by adding value to discarded materials, we can accelerate the rehabilitation of our planet.
Engineering like a Cyclone Engineer: The acclaimed reputation of Iowa State University's engineering program brings a sense of pride and accomplishment while providing merit in career searching.
Engineering is a demanding profession, so it's only fitting that the courses at ISU challenge your brain. However, becoming a Cyclone Engineer transforms your way of looking at open-ended problems, while encouraging you to consider the ethics and capabilities of potential solutions. I also had the opportunity to be a legacy engineer to Bill C. Fox, a distinguished ISU engineering alumnus with roots in Forest City, Iowa, where I grew up.