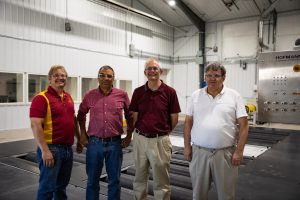 AMES, Iowa – Iowa State University will hold a set of preview days to introduce its new state-of-the-art off-road vehicle chassis dynamometer, Aug. 30, 31 and Sept. 1, from 3-5 p.m. each day.
The Off-Highway Vehicle Chassis Dynamometer Laboratory is located at Iowa State's BioCentury Research Farm west of Ames at 1327 U Ave. The informal open house, planned to be convenient for industry partners in the neighborhood for the Farm Progress Show, will be open to the public. The open house is free and there is no need to RSVP.
The dynamometer is in its final stage of commissioning. The multi-year effort to develop the "Dyno Lab" has been led by the faculty and staff in Iowa State's Department of Agricultural and Biosystems Engineering (ABE), with major financial and technical support from Danfoss Power Solutions.
Iowa State plans to officially celebrate the Dyno lab's completion in November with officials from Danfoss and other supporters.
The dynamometer laboratory, designed for off-highway vehicles with both track and tire traction systems, is the only one of its kind at a public institution in the United States, according to ABE Professor Brian Steward, one of the project team leaders.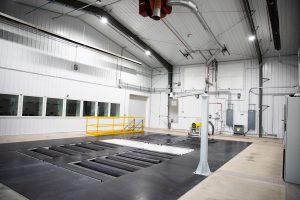 Danfoss, which plans to make use of the facility, provided $1.8 million toward its development and has been working closely with Iowa State to refine and install the facility near its location in Ames.
Details about the dynamometer and how to apply to use it for testing is available at: https://dyno.abe.iastate.edu.
About Danfoss

Danfoss engineers solutions that increase machine productivity, reduce emissions, lower energy consumption and enable electrification. The company's solutions are used in such areas as refrigeration, air conditioning, heating, power conversion, motor control, industrial machinery and automotive, marine and off- and on-highway equipment. Danfoss also provides solutions for renewable energy, such as solar and wind power, as well as district-energy infrastructure for cities. Founded in 1933, Danfoss is a family-owned company that currently employs more than 40,000 people and serves customers in more than 100 countries through a global footprint of 95 factories.
About ABE
Since 1905, the Department of Agricultural Engineering, now the Department of Agricultural and Biosystems Engineering (ABE) at Iowa State University, has been a leader in providing engineering solutions to agricultural problems in the United States and the world. The department's mission has evolved to encompass a global view of the entire food production system – the wise management of natural resources in the production, processing, storage, handling and use of food, fiber and other biological products.
Contacts:
Brian Steward, Agricultural and Biosystems Engineering, 515-294-1452,  bsteward@iastate.edu
Stuart Birrell, Agricultural and Biosystems Engineering, 515-294- 2874, sbirrell@iastate.edu
Ario Kordestani, Agricultural and Biosystems Engineering, 507-841-8185, ariokord@iastate.edu
Lindsay Schleisman, Danfoss Power Solutions, 952-250-0604, lindsay.schleisman@danfoss.com
Sarah Hays, Agricultural and Biosystems Engineering, 515-294-8787, sihays@iastate.edu