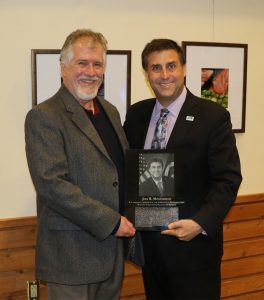 Department of Aerospace Engineering alumnus Joel Montalbano, manager of NASA's International Space Station (ISS) program, was inducted into the department's Hall of Distinguished Alumni during a banquet in his honor April 21.
Montalbano spent the day in the department meeting with faculty and the department's Industrial Advisory Council. He also toured department facilities, provided a student seminar and met with students in the department's M:2:I (Make To Innovate) program who discussed and showed the various projects they are working on.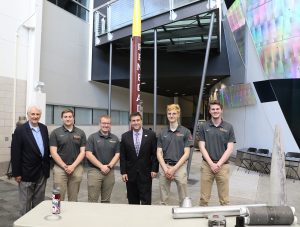 Montalbano earned a B.S. in aerospace, aeronautical and astronautical engineering from Iowa State in 1988. He immediately went to work for NASA, holding technical and operational integration roles before being selected as a flight director, where he had overall responsibility for executing Space Shuttle flights and ISS expeditions.
With his 2020 promotion to ISS manager, he has led a 5,700-person team responsible for the development and operation of complex space flight hardware and software and its integration with modules from international partners into a fully functional and operating ISS with a permanent human presence. He is also responsible for policy development, international partner negotiations, continued development of a commercial low Earth orbit economy, on-board science and technology demonstration, and the overall safety and health of the crew and on-orbit vehicle. View his official NASA biography.
The Department of Aerospace Engineering Hall of Distinguished Alumni includes more than 30 department graduates who have made a significant impact on the field of Aerospace Engineering. Plaques honoring each inductee can be found in the lobby of Howe Hall.