For Rick Tollakson, construction engineering digs deeper than the blueprint – it's all about building for the future and supporting the community.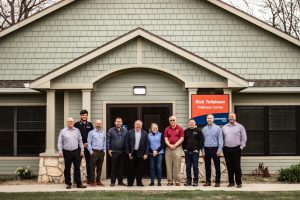 Tollakson, CEO of Hubbell Realty and 1976 Iowa State University Department of Civil, Construction and Environmental Engineering alum, just celebrated his extreme build of the 'Rick Tollakson Wellness Center,' a building located in Easterseals Camp Sunnyside to provide crisis stabilization and outpatient therapy to individuals with brain injuries and/or developmental or intellectual disabilities.
This isn't Tollakson's first build with the camp – in fact, this is one of Tollakson's many extreme builds at Camp Sunnyside. Tollakson and his team at Hubbell Realty have been passionate about 'extreme building,' building infrastructure with a one-to-two-week turnaround, since 2006, when he helped build a new home for a family in the show 'Extreme Home Makeover.' Since then, Tollakson has been a part of many extreme builds at Camp Sunnyside with Hubbell Realty.
After talking with his team at Hubbell many years ago, Tollakson discovered that one of his team members was a board member for Camp Sunnyside, and she thereafter lead Tollakson on a tour of the camp.
Throughout the tour, Tollakson noticed many cabins at Camp Sunnyside that needed to be replaced. So, for one of Hubbell Realty's biggest projects with the camp, they tore down eight cabins and replaced them with two 7,500-square-foot lodges with tornado shelters in each lodge. And now, Tollakson and his team have added a brand new wellness center to the camp, along with the many other builds through the years.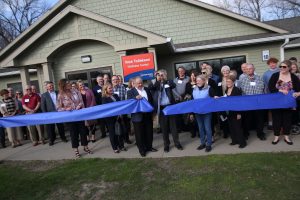 Tollakson's passion for supporting Camp Sunnyside is largely based on the camp's mission and dedication to the campers. Camp Sunnyside is a year-round child care center providing resources for individuals with disabilities, according to Easterseals CEO and president Sherri Nielsen. 
"The whole camp serves people with disabilities with the intent to help them develop independence and confidence to do what they want to do in life," Nielsen said. 
Once Tollakson and his team renovated the cabins into lodges at Camp Sunnyside, camper enrollment skyrocketed. Families heard about the new facilities, and the camp became known nationwide.
"We went from helping 45 people a weekend, to closer to 70 after the new facilities," Nielsen said. "We've always done good work here, but Rick took the work that we did and made it so people can see the work we do, and gave us facilities to do even better."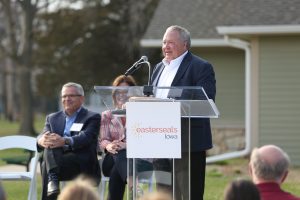 Aside from many extreme builds at the camp, Tollakson has also participated in paddle boating events, other events and small projects at the camp, building a connection with the community there.
"If you come out here in the summer, you understand that what they do here is unbelievable," Tollakson said. "The patience they have, the caring they have – we just have a big connection with them." 
Easterseals Camp Sunnyside has cared for individuals from six weeks to seventy years old, providing care and activities from horseback riding to swimming, and more. Every year, about 120 individuals get jobs in the community after spending time with Easterseals. Whether long term or short, Camp Sunnyside provides a place to stay for individuals that need extra care. And with brand new facilities and rooms, staying at the camp feels exactly how it is intended to be – like a weekend vacation at camp, along with new resources wide-spread to the Iowa community.