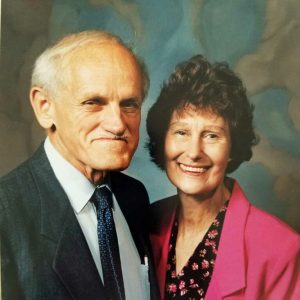 Department of Chemical and Biological Engineering alumnus and major department supporter Harold Wiggers passed away March 26 at the age of 93. His wife, Doreen Badger, 88, passed away March 31. A celebration of life will be held July 2, 2022 at the Wiggers homestead in Eldridge, Iowa.
Originally from Muscatine, Iowa, Wiggers spent his youth in Eldridge. He earned a B.S. in chemical engineering from Iowa State in 1953.
Wiggers was a member of ROTC at Iowa State and after graduation spent two years with the Army Corps of Engineers in Germany. Upon returning to the U.S. he gained employment with Exxon in 1953 and worked for the company until 1986. He was involved in the installation and expansion of Exxon facilities around the world, while living in 11 countries. After retiring from ExxonMobil he worked as a consultant until 1993 and lived in Canada and Singapore. In his retirement he volunteered with AARP to assist in tax preparation for elderly and low-income individuals.
Wiggers was a major contributor to the Department of Chemical and Biological Engineering Excellence Fund and also established the Wiggers Student Success Fund, which is an endowment created to enhance the CBE student experience and provide opportunities for building professional skills, networks, and educational engagement inside and outside the classroom, including undergraduate research experiences, study abroad, scholarships, industry visits and other activity that enhance the quality of education in the department.
See an obituary for Harold and Doreen.