One of only three students in the College of Engineering, Iowa State University Department of Civil, Construction and Environmental Engineering senior Hannah Jeffrey received the College of Engineering Dean's Student Leadership Award. This award is known for 'recognizing outstanding leadership by undergraduate engineering students during their junior or senior years,' and for students who 'exhibit exemplary leadership in a broader arena than a single department or student organization.'
Jeffrey has been a part of CCEE all four years of college, and ever since high school, she knew that civil engineering at Iowa State was the perfect fit. From sophomore year to now, she has been a part of a plethora of organizations, including the American Society of Civil Engineers at Iowa State (ASCE), where she is now president, the FIRST LEGO League, where she was a mentor and volunteer, the Program for Women in Science and Engineering (WiSE), and has worked closely with many other internal and external communities.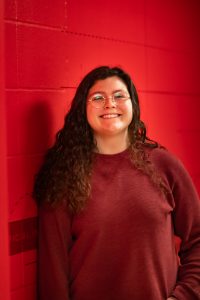 When finding out about receiving the award, Jeffrey reflected on two people that played a part in the nomination – CCEE lecturer Lauren Schwab and CCEE Alumni Relations Specialist II, Alisha Carroll.
"I am so thankful to Alisha Carroll and Lauren Schwab who put in the nice words for me to receive this award," Jeffrey said. "Without them, I feel like I would not be as successful as I am today, so I am very grateful for those two women. I think there are other people that are also very willing of this award, so the fact that I was awarded it is phenomenal – and very gracious of people to think of me."
Jeffrey's nomination is very well-deserved – in the letter that Carroll wrote for Jeffrey's nomination, she noted her trailblazing personality, saying 'Hannah takes it upon herself to mentor others, helping them grow and improve both academically and personally.' And in Schwab's letter, Jeffrey's passion for helping other students grow was noted as well, stating 'beyond simply doing problem solving skills, Hannah works with students to aid in the transition from high school to college. She is always willing to share her personal experience learning about study habits and how to succeed with others.'
While Jeffrey is involved in many organizations and a well-known leader in CCEE, she recalls that when starting at Iowa State, navigating college life was a lot different than high school, but experiencing that growth was a part of what led to her success.
"When I initially came to college, I was really set on being perfect and having a 4.0. But when I got here, I learned that college is a lot harder – but learning to fail and being okay with it, and doing it better the next time as best as you can, is the biggest takeaway I have had," Jeffrey said.
Now, after years of hard work, growth and dedication to civil engineering, Jeffrey has a career lined up once graduation comes around – at a company called Ames Construction in Minnesota. Jeffrey interned at Ames Construction last summer, and has now accepted a full time job there.
On April 13th, 2022, Jeffrey will be honored with the award at the Engineering Student Council's Student Leadership Banquet with a plaque and a $1000 award.