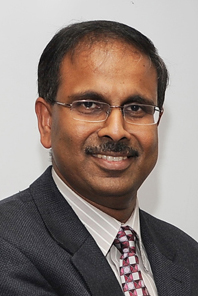 Sri Sritharan has been named assistant dean for research in the Iowa State University College of Engineering. He will begin his appointment on July 1, 2021. Sritharan has a 22-year career at Iowa State, most recently as interim associate dean for strategic initiatives. He will continue as professor in the Department of Civil, Construction and Environmental Engineering (CCEE).
This is a new position for the college, created by Arun Somani, senior associate dean for research. In this role, Sritharan will provide visionary leadership to help expand the scope of research endeavors in the college, assist with achieving strategic research goals and enhance research productivity and volume.
"Our research portfolio and scale of projects has increased significantly, and additional leadership in this area will better support our mission and move us forward," Somani said. "Sri will support faculty-led initiatives by developing innovative, impactful and diversified research portfolios."
Sritharan brings a wealth of knowledge to this role including currently serving as the lead faculty for the College of Engineering Wind Energy and Hazard Mitigation initiatives and director of the structural engineering research laboratories. He is also a member of the international faculty board in the civil and environmental engineering doctoral program at the University of Perugia in Italy. Previously, Sritharan served as associate department chair and director of graduate education in the CCEE department.
"I am looking forward to working with our diverse research teams and supporting faculty to assist in targeting proposals, developing new initiatives, collaborating with industry and establishing new partnerships," Sritharan said. "This is a great opportunity to help leverage our strong commitment to research in the College of Engineering and at Iowa State."
Sritharan holds degrees from the University of California at San Diego (Ph.D.), University of Auckland in New Zealand (M.E.) and University of Peradeniya in Sri Lanka (B.S.).