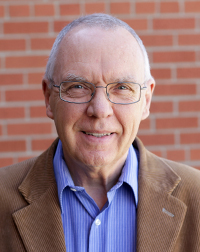 Longtime Iowa State University faculty member Steve Vardeman officially retired at the conclusion of the 2020-21 school year.
Vardeman first joined the Iowa State University faculty as an assistant professor of statistics in 1981. He became an associate professor in 1983 and in 1985 joined the industrial engineering (IE) department, serving appointments in both statistics and IE. He was promoted to full professor in 1986 and in 2005 attained the rank of university professor. The title of university professor is awarded to a faculty member who has acted as a change agent by making significant contributions to improve the university and who has demonstrated outstanding performance in at least one other area of faculty responsibility. Nominees must hold the rank of professor and have served at least 10 years on the Iowa State faculty.
Throughout his career, Vardeman has advised more than 50 master's students, more than 30 Ph.D. students, and countless undergraduates. He has taught 22 different statistics courses ranging from introductory survey classes to the upper graduate student level, focused on material such as Bayesian statistics and modern multivariate statistical learning.
His research interests include statistical machine learning, business and engineering analytics, engineering and natural science applications of statistics, statistics and metrology, directional data Analysis, defense and homeland security applications of statistics, industrial applications, statistical education, and the development of new statistical theory and methods. He has published more than 80 papers in refereed journals and has authored or co-authored five textbooks. 
Vardeman holds a Ph.D. in statistics from Michigan State University as well as a M.S. and B.S. in mathematics from Iowa State University. He served on the statistics faculty at Purdue University for six years, prior to joining the ISU faculty in 1981.
He has served as a visiting faculty member for Los Alamos National Lab since 2000 and in 2011 he founded Analytics Iowa LLC, of which he currently serves as principal statistician. He has also served in editorial roles for publications such as The American Statistician, Technometrics, Naval Research Logistics and Statistics Surveys. He is a Fellow of the American Statistical Association and an Elected Member of the International Statistical Institute.
"These forty years on the faculty at ISU have been a great blessing to me and my family. I have had wonderful colleagues and students and interesting and meaningful work to do. My appointment in IE has been absolutely central. The opportunity to sit in the midst of IEs and interact with them in their intellectual and educational pursuits has immeasurably enriched my own. Regular teaching of and curriculum development for IE 361  – including the external student projects that predates my joining the department – has been a blast," said Vardeman.
"We'll see what develops after May 15.  For sure, Professor Ken Ryan of West Virginia University and I are going to produce a graduate text in statistical machine learning. My wife Jo Ellen and I have bikes to ride, grandkids to watch run and wrestle and national parks to enjoy. And we intend to dedicate much of our remaining energy to volunteer Christian service and teaching of the Bible and – in Jo Ellen's case – English as a second language"