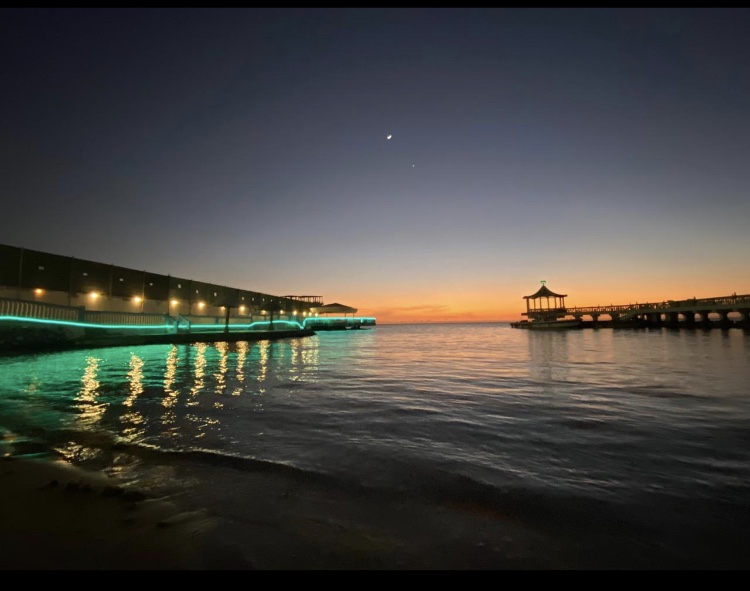 Growing up in coastal Saudi Arabia, Fahad Alsaggaf developed a strong personal connection to the sea. So, it was a major change of scenery when he attended college in a landlocked state like Iowa, but he said he has never regretted his decision.
Alsaggaf grew up in Jeddah, Saudi Arabia, a port city along the Red Sea. He describes his hometown as "the most beautiful city on the Red Sea," but adds with a laugh "I'm not biased at all." Growing up, he said he and his family were always close to the sea, whether that be snorkeling or fishing or just relaxing on the beach.
"There was something special about seeing the sun sink into the sea," said Alsaggaf. "How the colors collided was perfect."
Alsaggaf developed a strong appreciation for art and other creative endeavors growing up, but he also had an analytical side.
"My favorite art was seeing how everything can come together perfectly in a math equation or a formula. Simplifying an equation or finding the common factor almost felt like an art," he said.
When it came time for college, he had some sense that he might pursue studies in STEM but wasn't entirely sure where he would go. A family friend recommended he check out Iowa State University, but Alsaggaf admits he was "hesitant" at first to attend a foreign institution half a world away. But after scoping out the campus and the city of Ames on Google Maps, he started coming around. He knew that he would be replacing the sand and sea of the Arabian Peninsula with the prairies and rivers of the Upper Midwest. Ultimately, he decided this change of scenery would serve him well both personally and professionally.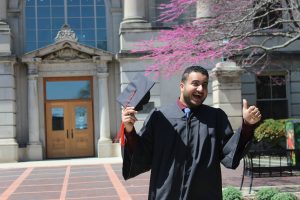 Alsaggaf said he felt welcomed by the Iowa State University community as soon as he arrived on campus in Fall 2014. He made friends right away during orientation, and though he came in undeclared he eventually selected industrial engineering (IE) as his major, citing that it allowed him to work closely with other people to solve technical problems. It was his I E 148: Information Engineering course with Leslie Potter that further reinforced to him he made the right decision with IE.
"Leslie had this energy in the class that kept all students motivated," Alsaggaf said. "The class was focused on Excel skills, yet, I was very engaged by Leslie's every word. Every presentation she gave assured me that I had chosen the right major that fits with my skills and capabilities."
Senior capstone with Dave Sly was another course that stood out to Alsaggaf. He said that he appreciated how capstone gave him the opportunity to take everything he had learned in the curriculum up to that point and apply it to a real-world project.
Alsaggaf also developed his skills and capabilities outside of the classroom. He was active with the Sales Engineering Club which he said provided a network of people and other resources that allowed him to improve himself as an engineer. He was also involved with DubH (the university's hip hop club) which he said allowed him to "get a bit out of my comfort zone" and to take a break from the rigors of the IE course load.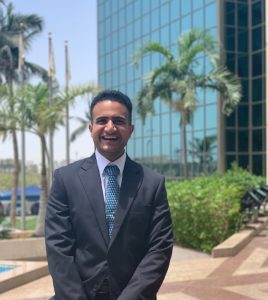 Alsaggaf graduated with his B.S. in IE in Spring 2018. He now works as a fleet acquisition and development specialist for Saudia Airlines. He said courses such as I E 148, I E 248: Engineering System Design, Manufacturing Processes and Specifications and I E 348: Solidification Processes provided him with the skills and knowledge in problem-solving, statistics, trend analysis and more, which he regularly applies to his work.
Though he's only been away from campus for a couple years, Alsaggaf said he still regularly thinks about all the good times he had as a student and looks forward to the COVID-19 pandemic subsiding so he can return for a visit. He said he is happy to be back in his home country but will forever know that choosing his adventure at Iowa State was one of the best decisions he ever made.
"It felt like the right place. The trees, the buildings, the art, Lake Laverne and let's not forget the cardinal and gold all came together perfectly like the sun sinking in the sea or like a math equation coming together," he said.