Agricultural and biosystems engineering senior, Jolynn Nissen, knew she wanted to pursue the agricultural systems technology (AST) major at Iowa State before entering her senior year of high school.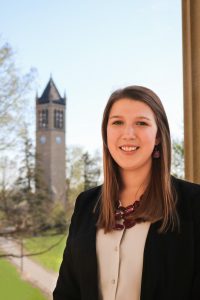 Growing up in rural Ohio, Nissen had enjoyed solving problems around her family farm and was curious how that could translate into a potential career. Settling on and researching agricultural engineering programs near her home state, Nissen landed at Iowa State due to proximity and how renowned the engineering program is. 
"The ABE department as a whole, during my visit, there was something extra about that department that instantly I knew this is where I wanted to go," Nissen said. 
It was during her visit that she realized she wanted to pursue AST rather than agricultural engineering because it was less "computer-based" and more hands-on. 
Throughout her education at Iowa State, Nissen has been involved in the AST Club, serving on the executive board and as president this academic year, was an AST student representative on the Technology Curriculum Committee and has committee involvement on the College of Agriculture and Life Sciences Student Council. 
The variety of each role Nissen held—from organizing and planning responsibilities on CALS Student Council to refining and practicing professional skills within her ambassador role—have helped Nissen to incorporate many different facets into her education and future career. "I kept very busy," Nissen said. "My first semester here was probably my toughest semester just because I came from a place where I didn't have hobbies that didn't include working and being active all the time. The busier I got, the better I can focus, because you had to be doing something all the time." 
Reminiscing and looking back on her four years at Iowa State, Nissen is grateful and thankful for the dozens of chances she's been given to learn more about AST and agriculture. 
"I've reflected a lot more on the opportunities I've been granted and the things I've been able to see while I'm here," Nissen said.  "You're in the middle of [agriculture], so companies are literally in our backyard. My accomplishment is being able to soak it all in, in a very full way."
And for students who were in the same position as Nissen was in high school, or even as a college student, switching majors can prove to be a stress-inducing experience. 
"If you're not 100% happy with what you're doing, change it," Nissen said. "Because once you find that one thing that you like more than others, it's just going to change your entire outlook on life and you'll be so much happier. Make a change while it's still early and you don't have to add on extra semesters and spend extra money." 
After graduation, Nissen will continue her work with Van Wall Equipment in Nevada, Iowa, as a program generalist.