Robert "Bob" Walkup, an alum of Iowa State University's industrial engineering program who had a long and successful career in various sectors, passed away on March 12th at the age of 84. Prior to his death he was diagnosed with a rare genetic form of idiopathic pulmonary fibrosis, as reported by tucson.com.
Bob was born in Ames in 1936. He was the son of Joseph Walkup, who served as the chair of industrial engineering (IE) at Iowa State from 1942 to 1973. The elder Walkup instilled in his son the importance of education and often said that "an engineer can do anything."
As a student at Iowa State, Bob was a member of the Engineers division of the Army Reserve Officer Training Corps (AROTC). When he completed his B.S. in IE in 1960, he served in the Army Corps of Engineers. He then had a three-and-a-half-decade career in the aerospace industry, including stints with Rockwell International, Fairchild Republic and Hughes Aircraft Company. His work took him to New York, Texas, California, and even Australia, when he worked as an engineer at a U.S. satellite tracking station during the Cold War.
Following his father's mantra that "an engineer can do anything," Bob left the aerospace industry in the late 1990s to pursue public office. He was elected and served three terms as mayor of Tucson, Arizona from 1999 to 2011.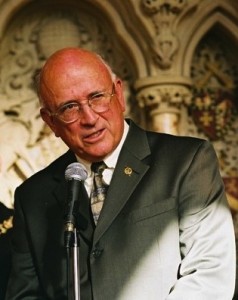 Elected as a centrist Republican, Bob often took a bi-partisan approach to issues and initiatives. He was the first mayor from Arizona to sign on to the U.S. Mayors Climate Protection Agreement. His environmental efforts resulted in higher recycling rates, a LEED certification requirement for new buildings and expansion of solar capacity, all within the city of Tucson.
Bob was also instrumental in a nearly $200 million public transportation project that brought a streetcar to town, connecting some of the city's "major activity centers." Bob credited the late Arizona senator John McCain for his effort in making the project a reality.
Bob was near the end of his third and final mayoral term when on Jan. 8, 2011, a gunman killed six and wounded 13 more (including U.S. Representative Gabby Giffords) on the city's northwest side. Bob commended the citizens of Tucson for their response in the aftermath of the shooting.
"They saw new heroes emerge at the scene of unspeakable tragedy. Indeed, they saw Tucson. One troubled man at his worst and one million of us at our best," he told the Arizona Daily Star.
Bob's daughter Holly followed in her father's footsteps and completed her B.S. in IE 1983. Much like her father, Holly's career started in the aerospace industry. She eventually left the industry so she could focus her efforts on homeschooling her two children. In 2017 she received her Nutritional Therapy Practitioner certification and the following year launched her own business, Cornerstone Nutrition and Wellness.
Holly's daughter Emily became the fourth generation from their family with an IE connection at Iowa State, when she completed her B.S. in 2018. As a student she was busy with her sorority (Delta Delta Delta) and completed internships and co-ops with Whirlpool, The Walt Disney Company, and Raytheon Missiles & Defense. Emily currently works as the operations internship and special projects lead for Raytheon Missiles & Defense in Tucson, Ariz.
"My grandfather was always extremely encouraging and so proud that I was carrying on the family tradition of getting an industrial engineering degree from Iowa State University," said Carter. "Many times during my internships we would discuss the situations I was facing and sort through the potential solutions together. He was so wise and had such a positive, uplifting attitude about life and work that it definitely inspired me to do more and push harder. He believed in me and that helped me to believe in myself."
Gül E. Kremer, C.G. "Turk" & Joyce A. Therkildsen Department Chair of Industrial and Manufacturing Systems Engineering at Iowa State University, had the privilege of visiting with Bob in Tucson and in Ames. She said a phone call she received from Bob roughly one year ago will forever remain dear to her heart.
"It was the early days of the pandemic; maybe we were two weeks in with the unexpected move to online learning in the middle of Spring 2020 semester," said Kremer. "A call on my direct line, which is not listed, found me working away late in the day. I picked up the phone, and quickly realized it was Bob on the other end. He said: 'I am surprised to reach you this easily.' Typically, my assistant would patch him into me. We laughed about it. He was calling to ask what we needed to keep the mission moving. I described to him how we were handling various things. Of course, thanked him for thinking about IMSE. I remember walking to my car reflecting on friends who would be there in our darkest hour. Bob has been a friend on our best day, and also on our worst day."
Now without Bob Walkup, Kremer said she plans to stay in touch with Emily so that the Walkup family can still remain connected to the IMSE department at Iowa State.
"Emily, in a true Walkup fashion, offered to carry the torch forward to the future in remaining connected to IMSE. But of course, all our alumni are ours to remain connected, especially those who are with us on our best and also most difficult days," Kremer said.
Sarah Ryan, professor of IMSE, holds the title of Joseph Walkup Professor thanks to an endowment established by the Walkup family. She has gotten to know the Walkup family over the years and said she fondly remembers her interactions with Bob.
"I greatly enjoyed my conversations with Bob and his family on their visits to IMSE," said Ryan. "Bob asked insightful questions about my research and generously shared his perspectives based on his long engagement with sustainability issues at the nexus of technology and public policy. His friendly supportiveness of the department will be sorely missed."