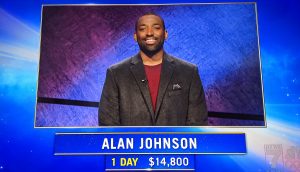 When Alan Johnson, 2006 graduate of Iowa State University's Department of Electrical and Computer Engineering (ECpE), appeared on the popular trivia television show "Jeopardy!" in mid-February 2021, he had been trying for years to become a contestant. His hard work paid off, literally, when he became a one-day champion of the show, taking first place in his episode and returning the next day to compete again. Johnson took second place on his second episode, bringing his reign to an end, but the experience was extraordinary. Though to be fair, Johnson has had lots of extraordinary experiences, many stemming from his time at ISU, majoring in computer engineering. But first: a look at his time on the show.
"Jeopardy!" Champion
"I've watched the show for most of my life," Johnson said, "I love learning things, and I love playing trivia. For me, 'Jeopardy!' is the pinnacle of trivia. I don't really seek public attention, but 'Jeopardy!' happens on TV, so that's where I had to go."
"Jeopardy!" is filmed at Sony Pictures Studios in Culver City, California. Johnson shared a few observations from behind the scenes of his time there.
"It was really cool to see the tiny details behind the show," he said. "That includes how an independent company selects which contestants appear on which shows, to make it completely separate from how the clues are selected; how they are able to do retakes of the host's clue reads; seeing the process of judges deliberating during breaks in gameplay to decide whether an answer will be accepted; or how there are hydraulic lifts to equalize the heights of the contestants. I feel like I have all this insider knowledge now… On set, the whole staff calls you 'Champ,' and it's like being on top of the world."
Johnson also acknowledged some unique aspects of filming on "Jeopardy!" at this point in history — one reason being that long-time host Alex Trebek recently passed away on Nov. 8, 2020.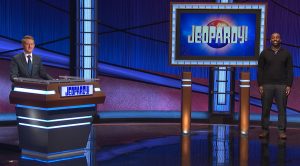 "Because my taping was less than six weeks from Alex Trebek's death, the staff were still very affected by his passing," Johnson said. "I thought they did an incredible job at what must have been a very difficult time. Everyone said that Alex loved the show and the joy it brought people and that he would want them to continue making it. They clearly felt the same way, because they really made the experience feel special for all of us."
Because of the pandemic, taping was a little different when Johnson was on the show. One of his favorite memories of the experience was impacted by the changes to the filming setup.
"So many great memories, but if I have to pick one, maybe the video call with my family from the Sony Pictures Studios parking garage," Johnson said. "Because of COVID, no one was in the studio with me, so they had to wait all day to find out what happened. You have to be very careful not to let the results become public, but I had to tell my immediate family, who have indulged my 'Jeopardy!' obsession for so many years."
To make it on "Jeopardy!," contestants have to maintain patience and go through a strict vetting system.
"It's quite a process. The exact criteria at each step are known only to the staff, so this is how it's rumored to work," Johnson said. "You take a test of 50 'Jeopardy!'-style clues. If you test high enough, you go into a lottery. If you get picked, you take another online test. If you test high enough, you go into another lottery. If you get picked, you play a mock match against other potential contestants. Then you go into the contestant pool. If you get picked from the contestant pool, you get booked for a taping day. Five episodes are taped per taping day, and you still might not get picked for one of them. It's a long process, and like many people, I tried for years before I got booked."
Johnson credits his family with supporting him as he prepared for his time on the show.
"I worked really hard to prepare for my match, and my whole family felt the brunt of it for weeks," he said. "Not only did I want to win for my own pride, but I wanted to make it all worthwhile. It's one of those things I always thought I could do, and proving it to myself felt incredible."
Flashback: The making of a "Jeopardy!" Champion
Way back when Johnson was a kid, age 11 or 12, he started programming. But as he got older, he faced challenges that made him feel a little lost and unsure of where to go.
"My senior year of high school was really hard," Johnson said. "Aside from a family tragedy, I was dealing with disappointment of not having the high school experience I thought I was supposed to, compared to my peers and my expectations from TV. I felt adrift, without a clear plan for what I wanted to do with my life as an adult."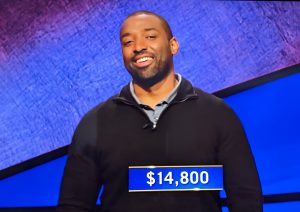 Because of his history with programming, he knew computer engineering or computer science were areas where he might succeed. Johnson said he was interested in computer engineering because of the adjacency to other engineering programs and the emphasis on hardware. But growing up outside of Chicago, attending Iowa State was a new concept.
"I must admit that I didn't know much about the school or the state initially. But the more I learned, the more I could absolutely see myself there," Johnson said. "Visiting the campus had a strong impact on my parents and me. Knowing that I'd have a full scholarship for being a National Merit Finalist meant that I wouldn't have money worries to interfere with my studies."
So Johnson came to ISU and joined the ECpE department in computer engineering, where he learned a lot and found his way.
"One of my favorite memories in the department was working in the circuits lab, trying to make electronics work without blowing out my op amps," he said. "I remember making an analog remote control-like device, which transmitted infrared signals to a receiver that differentiated between two inputs. It took hours to get it right, but it felt like sorcery when I finally saw it work."
While he spent time forming connections and learning fundamental engineering skills in Coover Hall, Johnson impacted campus and left a legacy in many other ways.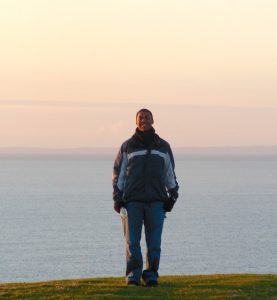 "At Iowa State, I was determined to make my time count," he said. "I found an incredibly open and vibrant community, where I had the space to explore who I wanted to be. I went from feeling like my personal growth was stunted, to growing in every conceivable way. It was absolutely the right place for me at that time in my life."
Johnson more than made his time count: He served as Government of Student Body Senator for the Union Drive Residence Area and later for the College of Engineering on a variety of committees; he was a Carver Scholar and was in the University Honors Program; he was a GEM Fellow and a McNair Scholar; he participated in NCORE/ISCORE; he was Vice President of Community Service for the National Society of Collegiate Scholars; he was active in the National Society of Black Engineers; and he earned student honors from the National Society of Collegiate Scholars, Phi Kappa Phi, Tau Beta Pi, Eta Kappa Nu and Golden Key. On top of all that, he found time to earn a minor in economics and spend a semester overseas.
"Studying abroad in Wales was one of the most transformative parts of my Iowa State experience," he said. "The Regents' Semester in Wales program made it just as affordable as staying on campus. The experience fostered lifelong friendships with my British roommates and the other American students studying abroad at the same time. It vastly expanded my global perspective and sparked a love of travel."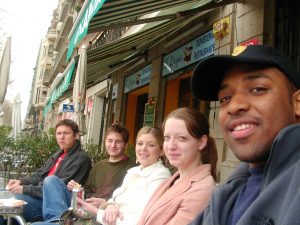 As a student in ECpE, Johnson landed internships with Eaton Corporation through the Eaton Multicultural Scholars Program and at Lexmark through the GEM Fellowship, which helped cement his future path as an engineer. But his connections with friends and faculty helped him, too.
"The parts that really stand out are the people I met and the deep friendships we formed. Looking back, we were all trying to figure out how to exist in this world as adults, learning from each other, making mistakes, and looking out for one another. Many are among my best friends to this day, and for some of the folks whom I haven't kept in touch with as well, 'Jeopardy!' has provided a great opportunity to reconnect."
And as for professors:
"I've spent a lot of time in school, and Dr. Mani Mina is one of my favorite instructors of all time," he said. "He made the material come alive in my electronic circuits and electromagnetics classes, and he was hilarious while doing so. I also must give a shoutout to Dr. Yong Guan, my research advisor. He taught me about university research and helped me with the fellowship applications that would eventually allow me to attend Princeton University for my master's."
Life after Iowa State
When Johnson graduated from Iowa State, his path did not follow that of a typical young engineer.
"After ISU, I did a Master of Engineering program at Princeton, where I focused on computer science and signal processing," Johnson said. "Then I took a break from engineering to join Teach For America, and I taught high school math in Baltimore. Following the completion of my two-year commitment, I returned to grad school at New York University, where I studied music technology. While in the program, I founded a startup. It was short-lived, but it connected me with the New York City startup world, which I've inhabited for most of the past decade."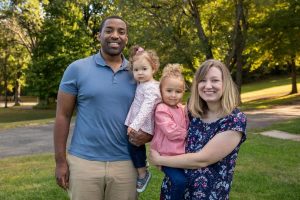 Throughout that time, Johnson also managed to visit over 40 countries and live in eight states. He now resides in New Jersey with his wife and two daughters, and they have twins on the way this spring. Johnson mentioned on his second episode of "Jeopardy!" that they will have "four under four" — four children under four years old.
These days, if all of that doesn't keep Johnson busy enough, he also works as an engineering manager at Better.com, a digital mortgage company, where he enjoys helping improve people's home ownership journeys.
"I love building and managing teams of engineers and helping strategize how we use technology to constantly innovate on how our business works," he said. "It's fundamentally a very people-oriented job. For me, tech is a means to an end of improving life for folks, whether that's making jobs easier or delivering more value to the customer."
Johnson credits his education at ISU for helping him start out in this field.
"My classes gave me a strong foundation for understanding computing technology," he said. "It's an extremely fast-moving field, so many of the specific things I learned more than a decade ago have become obsolete. But the real value is in understanding the underpinnings of hardware and software. That has given me a perspective from which to comprehend technology trends and filter for the most important concepts out of the staggering amount of information."
Based on his experiences at Iowa State and beyond, Johnson shared advice for current engineering students.
"My advice for future engineers is to be open and adaptable," he said. "When I was a freshman at Friley Hall, I could not have conceptualized the places my life and career would go. Or how the software industry would change. Some of the most important things I learned were in the classes and experiences I had outside of the College of Engineering, along with the hard skills I gained in my core classes. Universities like ISU are some of the most culturally and intellectually rich places on the planet — make the time count."