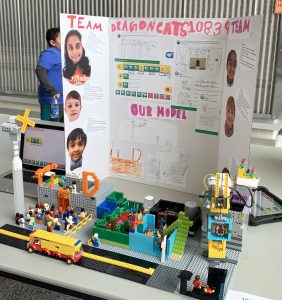 Iowa State University Engineering Kids FIRST LEGO League Explore program was selected as a 2021-2022 Scale-Up Program of the Iowa Governor's STEM Initiative.
The STEM Scale-Up Program offers Iowa K-12 high-quality STEM programs and professional development to inspire Iowa's youth to pursue exciting STEM careers.
FIRST LEGO League Explore is an international program created by LEGO® and the nonprofit FIRST for students in grades K-4. Each August a new challenge for teams is released that focuses on a scientific topic. Teams of students discover and learn about the topic, present their findings in the form of a team poster and LEGO model where they use coding and robotics to design, build and program parts to move autonomously. Iowa's FIRST LEGO League programs are directed by Iowa State University College of Engineering Community Outreach.
FIRST LEGO League Explore is one of a dozen programs on the menu of STEM Scale-Up programming ranging in focus from engineering design, animal science, agriculture, robotics and coding. The STEM Council selects programs based on the cost-benefit ratio, diversity impact, sustainability, effect and Iowa Core Alignment.
"We're excited to share FIRST LEGO League Explore with Iowa youth and educators as a chosen STEM Scale-Up program. It was the most applications of programs ever received by the Council and we are delighted to be selected," said Camille Sloan Schroeder, Engineering Community Outreach Programs Manager. "But what's most exciting is that more of Iowa's youth will now get the opportunity to learn about engineering through their experience with FLL Explore."
To begin or access a Scale-Up application: https://stem.extapp.uni.edu/StemApplicationManagementSystem/#/login
For information on the Scale-Up Program: https://iowastem.org/Scale-Up-Application