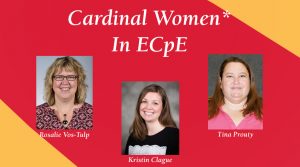 Cardinal Women* has selected their 2020 team, with three members from the Iowa State University Department of Electrical and Computer Engineering (ECpE).
Cardinal Women* is a campus group dedicated to cisgender women, transgender women, nonbinary individuals, those of trans experience, those that identify as genderqueer or queer and many other diverse gender identities. The campus group recognizes that gender is complex and is why they include the asterisk in their title.
Cardinal Women* selects participants from various departments around campus. Usually, there are large and small groups that meet in-person throughout the semester; however, the COVID-19 pandemic has changed the procedure of the sessions.
Typically, the program has 60 people participating in one group per semester, but to help prevent the spread of COVID-19, groups have been limited to 30 members this year.
Thirty of the selected womxn, along with 10 small group leaders, are engaging in five, two-hour, appropriately distanced and mask-to-mask sessions this fall. They are also participating in large- and small-group discussions and continue the conversation between sessions via Canvas. The spring participants will follow a similar procedure as well. A joint Cardinal Commencement for both the fall and spring groups is planned for May 21, 2021.
"We've been placed into different groups so we can learn our group members a little bit better. In Cardinal Women* we are trying to find ways to help ourselves grow, while also getting to know people across campus that we didn't know," said ECpE Academic Advisor Tina Prouty.
Prouty started at Iowa State almost 12 years ago. She was in the college office doing scholarships in stats, then started to advise freshman leaders in engineering. Later there was an opening in ECpE, and she applied and got the role.
Another Cardinal Womxn in ECpE, Rosalie Vos Tulp, says that she was excited to be in this year's program because she had applied to Cardinal Women* in the past but had not been accepted.
Vos Tulp has been an academic advisor for ECpE at Iowa State for four years. Prior to being an advisor here, she was an instructor at Des Moines Area Community College. Vos Tulp has been working with students for about 20 years.
The group was founded as a way to bring together a group of women* willing to engage in personal and professional development, to create an environment where those individuals were comfortable sharing their personal viewpoints and experiences.
"In our sessions, we have learned to recognize our inner critic and our inner mentor better," Prouty said.
"During our first session, we talked about our inner critic and how to recognize it and realize that it is not always there for our benefit. In the second session, we talked about our inner mentor, which is more positive, in the sense that it encourages us to do things like join clubs and do better."
"I am excited for the leadership opportunities and personal growth, pushing myself to think beyond my everyday mindset and exploring new ways I can give a boost to my personal and professional life and help do the same for others," said Communications Specialist Kristin Clague, who is scheduled to participate in the spring sessions of the program.
Cardinal Women* is a program being offered at no cost with participants selected from the 120 applications received for the program. This program was developed and is being led by Tera Lawson, procurement services, and Dr. Denise Williams-Klotz, office of multicultural student affairs.
In the upcoming sessions, members will be discussing communication style strategies, approaches to negotiation and how to support and affirm members of the Iowa State community.
"As womxn, we tend to compete with each other too much instead of supporting one another, and when you support other womxn, you can both move forward instead of tearing each other down," Vos Tulp said.