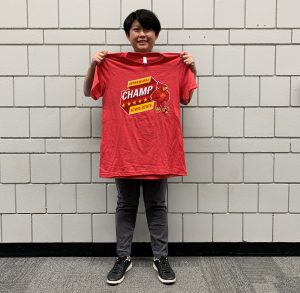 It's been a busy year and a half for one industrial engineering student and she may not be done yet.
Sharon Lau, a Ph.D. student in industrial engineering, recently won her 11th intramural championship as a student at Iowa State University. Lau, who first came to Iowa State in August 2017, now has four titles in mini golf (summer 2019, fall 2019, summer 2020 and fall 2020), four titles in badminton (singles – fall 2019, women's doubles – fall 2019, coed doubles – fall 2019, and singles – fall 2020), one title in broomball (fall 2019) and two titles in ping pong (women's doubles – spring 2020 and coed doubles – spring 2020).
"I just enjoy participating in these events to take a break from research and classes," she said.
Lau has been active in sports throughout much of her life. She played badminton competitively while growing up in her hometown of Kuantan in Malaysia, before an ankle injury forced her to put down the badminton racket and pick up a golf club. She played competitive golf throughout high school and was even on the Malaysian national team from 2007 to 2009.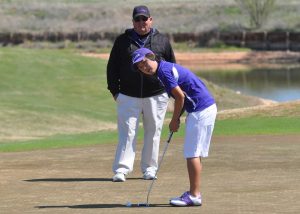 "Being a part of the national team was one of the best times of my life," said Lau. "It taught me so many things and I am grateful that I had such supportive parents that got me involved in sports. Some of the things that I still apply to my life today are good sportsmanship, perseverance and teamwork. This means that when we are done with a tournament, we do not let our performance dictate our actions outside the golf course. We play hard no matter how bad we are doing, and we win as a team and lose as a team."
As an undergraduate at Tarleton State University in Texas, Lau was awarded a full-ride golf scholarship. She graduated in 2014 with her B.S. in manufacturing engineering and during her time there she racked up a slew of honors. She was named Division II Freshman of the Year by the National Golf Coaches Association, was a two-time Women's Academic Player of the Year in the Lone Star Conference and was awarded First Team All-Lone Star Conference honors.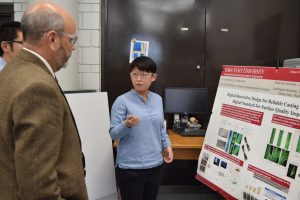 After graduation, she worked as an R&D product test engineer for Nike's golf division for two and a half years. However, this division was shut down in 2016 which was the catalyst for Lau's decision to go to graduate school and how she ended up at Iowa State. She completed her M.S. in IE in 2019 and decided to stick around Ames to complete her doctorate.
"I really enjoy working with Dr. Peters, fellow graduate students, and faculty and staff in the department. I also felt like there was more for me to learn and grow by staying here so it was a no-brainer for me," she said.
Lau now has her sights set on the spring and fall 2021 broomball championships. She was part of the fall 2019 championship team which included all IE students and in fall 2018, an all-IE team (not including Lau) also claimed the title. Lau said part of the team's success and consistency can be attributed to Mike Helwig, associate teaching professor for industrial and manufacturing system engineering (IMSE), who sponsors and supports the IE team each year. Helwig and Lau are currently recruiting players for this season's team.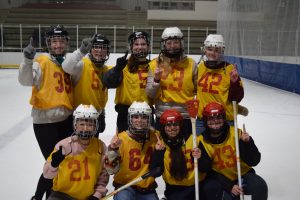 Lau has also proven herself to be an accomplished student and researcher. She is advised by Frank Peters, C. G. "Turk" and Joyce A. Therkildsen Professor and associate professor in IMSE, and her research focuses on advanced manufacturing. Specifically her dissertation looks at reducing measurement error associated with nondestructive testing (NDT) in the metal casting field.
"My research focuses on one of these NDT methods, magnetic particle inspection, or MPI, which is able to detect defects at or near the metal casting's surface," said Lau. "The goal is to identify and quantify the influence of factors on the reliability of MPI and subsequently create innovative solutions to raise the capabilities of MPI to be able to improve the performance of metal castings."
As a graduate student at Iowa State, Lau has completed an internship with BUNN in Creston, Iowa and has served as a data scientist for the Ames-based Curiosity Labs. She also helped to establish the Rapid Manufacturing Club on campus and currently serves as the co-founder and president.
Lau plans to complete her studies in spring 2022 and after graduation she hopes to pursue a career in academia.