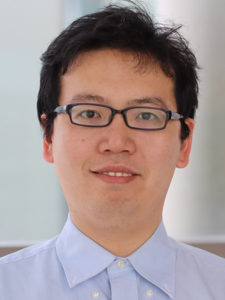 Zhang Zhan, associate scientist at Iowa State University's Center for Nondestructive Evaluation (CNDE), has been selected for the American Society for Nondestructive Testing's inaugural class of the RISE Leadership Development Program for NDT Professionals.
RISE is designed to give nondestructive evaluation professionals the tools they need to guide the industry into the future. The 15-month program includes nondestructive evaluation skill training, leadership preparation, mentoring, and networking with fellow ASNT members.
"Zhang's selection for the prestigious RISE program is recognition of his early-career accomplishments in the field – and his exceptional potential for leading nondestructive innovation in the future," said Reza Zoughi, director of CNDE, Kirby Gray (Battelle) Chair in Engineering and professor of electrical and computer engineering. "Zhang is already a leader locally and on his way to leading nationally and internationally."
Zhan's research areas of interest include digital X-ray radiography, high resolution computed tomography, X-ray materials characterization, and multi-modality imaging and data fusion. He manages the microCT lab and high energy X-ray diffraction lab in CNDE, and he is engaged in multiple research collaboration projects with industrial partners.
He has served as the chairman of ASNT Iowa section since 2018. Zhan is also leading and participating in multiple ASTM standards development in ASTM E07 and F42 technical committees. Zhan earned a master's degree from Georgia Institute of Technology in 2011 and worked as a V&V engineer in the nuclear industry from 2011-2014.
About CNDE
Iowa State's Center for Nondestructive Evaluation (CNDE) is the preeminent national leader in nondestructive evaluation fundamental science, technology and educational innovations – and engineering know-how for "all things NDE."
CNDE was established in 1985 as a National Science Foundation Industry/University Cooperative Research Center. With over 30 scientists and engineers, CNDE provides cost-effective tools and solutions to industry leaders in aerospace, defense systems, energy, infrastructure, technology and petrochemicals.
CNDE's approach has led to commercialization of new methods in major inspection types, inspection system developments applied to metals, ceramics and composites, and successful collaborations with a large and diverse group of research partners.
CNDE also helps train the next generation of nondestructive evaluation engineers through Iowa State's undergraduate minor and graduate certificate in NDE.